Southern Research honored winners of its employee Excellence Awards program at a program last week showcasing work across the organization this year that exemplified the non-profit's core values.
The work of the winners supported Southern Research in wide-ranging ways in 2016, from advancing science and technology to making the organization a safer, more efficient, more productive workplace. In all cases, the winners showed a deep commitment to serving Southern Research, its sponsors and their co-workers.
"Southern Research was founded 75 years ago, and it remains vital today because of the capabilities and dedicate of our talented team," said Art Tipton, Ph.D., president and CEO.
"Our employees come to work every day focusing on making the world a better place in a broad range of technical areas, I'm confident that the organization will continue to celebrate innovation and accomplishment for many generations to come," he added.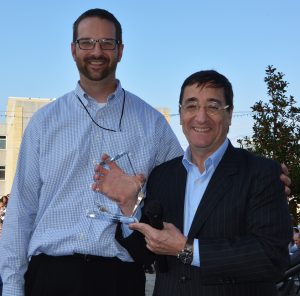 At the program, Tipton presented the President's Award to Tim Ferguson, the leader of the Engineering Division's Mechanics Department who has exceeded customer expectations with excellent technical solutions for more than a decade.
Tipton commented on Ferguson's performance leading a profitable, growing department to high standards and demonstrating year-over-year financial growth independent of fluctuations in government or commercial funding.
"I am thrilled to present this award this year to someone nearer the beginning than the end of their career, and I look forward to Tim continuing to be an example of excellence to the entire Southern Research family," he added.
Receiving Excellence Awards for their work in 2016 were:
The QVOA Team: A group of six scientists worked for a year to validate and standardize the Quantitative Viral Outgrowth Assay (QVOA), an important component of a major contract with the Department of AIDS at the National Institutes of Health, and focused on a cure for HIV/AIDS. The team is Marie Mankowski, Christine Raney, Jiayi Wei, Rebecca Bernbaum, Haley Madeira, and Yury Kuzmichev.
Amy Sands: Playing a dual role as project coordinator and technical supervisor, Sands has been in the lab part time while also acting as a technical mentor to junior biologists and supporting the study directors.
Carrie Evans: As divisional project manager, Evans has developed processes and procedures to more efficiently track progress on a range of technical programs. She also has acted as an intermediary with the Finance Department, a key role with new budgeting and forecasting processes coming online, and one that allows the organization's key scientists to concentrate more fully on scientific progress.
Helga Alexander: Responsible for Southern Research's ISO program, Alexander prepared the organization for more rigorous ISO standards through a more robust internal audit process and ensured the implementation of identified process improvements. Southern Research's recent ISO renewal audit produced no findings.
James Hawbaker: Hawbaker developed an optical strain system based on sophisticated image analysis that enables making non-contact strain measurements at extremely high temperatures.
 Kenny Deerman: Since February, Deerman has provided cross-divisional support as a fill-in Selective Catalytic Reduction catalyst sample prep technician for the Energy & Environment (E&E) division, displaying workmanship, quality and productivity in the role.
Dave Stewart: On top of his normal workload, Stewart stepped up to help E&E carry out a successful move from the Southside Birmingham campus to the Oxmoor location in 2016.
Curtis Thompson: Tasked with preparing a proposal for funding from the Department of Energy for a joint project with UAB, Thompson pursued the right collaborative relationships and completed the process flawlessly. The $150,000 DOE award is to develop a continuous water quality monitor.
Amit Goyal: Leading a program in sustainable chemistry and catalyst development in E&E's Clean Technology Development group in Durham, Goyal won E&E's single largest funding award from the Department of Energy to develop chemical products from biomass sugar. He also filed six invention disclosures and three patent applications in 2016.
Javier Campos-Gomez: With a vibrant research program in acute and chronic infectious diseases, Campos-Gomez has been awarded funding by both the Center for Clinical and Translational Science (CCTS) and and the Alabama Drug Discovery Alliance. In addition, the far-reaching implications of his discoveries have been published in a top-tier scientific journal.
Brynne MacCann: With Southern Research marking its 75th anniversary in 2016, MacCann was instrumental in the launch of a new, multi-faceted philanthropic outreach program.
Jason Quick: A technician adaptable to changes in test plans and customer and engineer requirements, Quick has been able to surpass expectations.
Kim Blatz: Responsible for increasing a culture of safety and environmental awareness at the E&E Durham facility, Blatz clearly demonstrated a core value of the organization.
Curtis Champion: A multi-tasker in E&E's Facilities Group with a busy schedule, Champion sets an example for the organization of how to communicate with internal customers.
Carlton Green: Responsible for facilities and maintenance at the E&E Durham facility, Green implemented numerous site-wide improvements including a 5 S system to improve workplace efficiency and safety, and the installation of energy efficient lighting for utility savings.