Southern Research honored winners of its 2017 Employee Excellence Awards in a program last week.
The 23 winners include both technical and administrative staff and represent Southern Research across its diverse divisions and departments. All have shown a deep commitment to Southern Research's mission, its sponsors, and their colleagues.
Their accomplishments supported Southern Research in a wide range of efforts during 2017, from advancing science and technology to making the organization a safer, more efficient, and more productive workplace.
This year, President and CEO Art Tipton, Ph.D., recognized Chuck Hebert, Ph.D., for his contributions and dedication to Southern Research with The President's Award.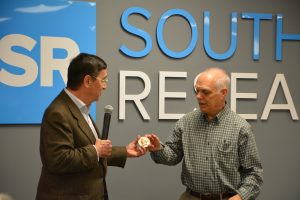 Hebert, a principal investigator on multiple significant toxicology contracts, was acknowledged for leading teams to achieve excellence in study quality, delivery, and budget adherence for high-profile programs including the National Toxicology Program, the National Institute of Mental Health, as well as multiple National Cancer Institute programs.
"Over a 23-year career at Southern Research, Hebert has brought great insight into the organization's major efforts in toxicity, specifically for reproductive toxicology," Tipton said. "These efforts ensure the safety of consumers through rigorous scientific programs. Chuck has also been an exemplary mentor for many on our scientific staff."
As part of his award, Hebert was presented with the Thomas Wesley Martin Medal. A limited number of these coins were made in 1961 as a gift to the board of trustees to show appreciation for a select number of scientists who have made phenomenal achievements in their respective fields.
Receiving Excellence Awards for their work in 2017 were:
Eclipse On-Site Mission Team: The recent mission to collect rare and unique imagery of the 2017 Solar Eclipse with Southern Research's high-definition imaging system deployed on NASA WB-57 aircraft was a challenging and successful mission that would not have come to fruition without the help of Southern Research team members Don Darrow, Tony Casey, John Wiseman, Ph.D., and Kenny Deerman.
Carol Lackman-Smith: In her 25-plus years of excellence and dedication to SR, Lackman-Smith has strengthened the virology program at the Drug Development facilities in Frederick, Maryland, to meet the highest standards.
Anna Manuvakhova: Playing a multifaceted role on the High Throughput Screening Informatics team, Manuvakhova recently identified an improvement used to normalize data in single dose versus dose response assays. Her meticulous, persistent attention to these details was critical for SR.
Ben Carmichael: Carmichael has worked diligently as a ground test coordinator to ensure the performance of Engineering's Hypersonics Structures Group is elevated to higher standards. He has, on more than one occasion, displayed exemplary commitment to his job to ensure on-time and accurate delivery to customers when workload was high, and while time until the submission deadline was limited.
Omar Moukha-Chafiq, Ph.D.: Moukha-Chafiq has made a significant impact in many ways to the Chemistry Department and our drug discovery efforts, including identifying key compounds to be used in animal studies to advance programs in Parkinson's and diabetes.
Lindsey Chatterton: Due to her impeccable lab work and data interpretation, Chatterton has played a major role in working on two large Department of Energy-funded projects. She was recognized for her focused attention to detail in the lab and on proposals.
John Cook: As supervisor of non-destructive characterization lab, Cook has played a critical role in support of a key project for one of Engineering' s primary customers. While handling these very tight timelines, he continued to support and supervise other key laboratory activities.
Jacques Cuneo: On top of his normal workload, Cuneo proposed and won a major aerospace firm for material characterization in support of a critical defense mission. Cuneo has put countless hours into developing the customers and preparing winning proposals that demonstrated technical excellence and emphasized Southern Research's unique engineering capabilities.
LaJuana Durbin: Implementing site-wide improvements, Durbin has allowed SR to streamline its processes in the Drug Development division.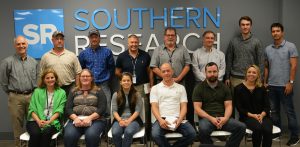 Adela Flores: As a technician in the Cell Biology and Immunology Group within Drug Development, Flores has consistently demonstrated a level of technical and professional excellence. She is relied on to not only execute the most challenging of laboratory techniques, but to also train others in the performance of those assays.
Eriel Martinez-Gutierrez, Ph.D.: Martinez-Gutierrez, a postdoctoral researcher in the Biological Sciences Department, has made outstanding contributions to the field of the important bacterial pathogen Pseudomonas aeruginosa.
Johnny McCullough: Responsible for export control at Southern Research, McCullough has significantly enhanced the management of SR's import and export activities through his proactive approach to procedures and processes. He has ensured that SR is doing a high-quality job of handling foreign goods vital for our clients.
Kenneth Nicholson: A multi-tasker in the Engineering Materials Department, Nicholson has worked on a multitude of projects with short timelines and high volumes of machined specimens. It is estimated that Nicholson has been the primary machinist on over 700 specimens and every single specimen has met specifications.
Steven Orr: In his new role as the responsible official and manager of biosafety compliance, Orr has helped ensure that the transition in biosafety leadership was handled with a strong emphasis on training and teamwork. He was recognized for his hard work, dedication, flexibility, and his safety-driven focus and leadership in this role.
Tim Robertson: SR has evaluated various types of main tank insulation for NASA's Shuttle Orbiter and Space Launch System (SLS) programs. The challenge of these projects is that any inefficiencies associated with testing can result in an additional 10 percent in material costs. Robertson has being running specimens for NASA and other aerospace firms for the past 10 years without any issues associated with delays or additional charges.
William Crews: Responsible for managing the sustainable chemistry program at the Energy & Environment facility in Durham, North Carolina, Crews has been a key mentor and project manager allowing for a critical Apollo project to move forward without delay.
Brynne MacCann: Working tirelessly to build a philanthropic program at Southern Research from the ground up, MacCann portrays excellence in her community outreach efforts to donors as well as fostering a culture of philanthropy within the organization. She has demonstrated a strong passion for contributing to the growth and overall success of Southern Research.
Nina Ogden: As External Affairs coordinator, Ogden went beyond her duties to assist the Energy & Environment team with the first Southeastern Energy Storage Symposium.
Rossi Carlson: Responsible for raising visibility and awareness of Southern Research in the community, Carlson has managed multiple events this year that have increased public awareness and engagement in the organization.