Southern Research is again hosting the Southeast Energy Storage Symposium, bringing together an array of speakers and panelists to provide attendees with perspectives, benefits, challenges and trends in energy storage, solar policy and regulation.
Now in its second year, the event is begins today at Southern Research's Oxmoor location on Tom Martin Drive.
The symposium is the only event of its kind in the region and includes keynote speeches and panel discussions featuring experts and professionals from Southern Research, Southern Company, the U.S. Department of Energy (DOE), Tennessee Valley Authority, NextEra, Avista Utilities, Electric Power Research Institute (EPRI) and DOE's Oak Ridge National Laboratory, Pacific Northwest National Laboratory and Sandia National Laboratory, among many others.
Bert Taube, Ph.D., Energy Storage and Renewables Program Manager at Southern Research's Energy & Environment division, said the symposium is designed to inform key industry stakeholders about the value of innovative energy storage systems in an effort to accelerate the technology's development, testing and adoption.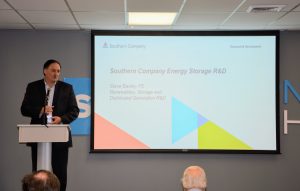 Taube said energy storage systems represent a critical technology in the smart electricity grids envisioned for the future because they will support important parts of grid modernization such as the integration of renewables or the coverage of peak demand to help lower costs and cut emissions.
"The symposium provides a collaborative forum for policymakers, regulators, utilities, vendors and technology integrators from the Southeast and across the U.S. Collectively, this group will discuss various aspects of energy storage, including grid interconnection, economic modeling, performance, safety, standards and regulation," Taube said.
KEY TOPICS
Attendees will participate in a wide breadth of panels and sessions hosted by leaders in the industry.
Keynote presentations will be provided by Alejandro Moreno, DOE's director of water power technologies; Jeff Burleson, senior vice president of environmental and system planning for Southern Company; and Tim Echols, a commissioner on Georgia's Public Service Commission.
The symposium will cover topics such as emerging energy storage technologies and its impact on diversification of technologies in the grid infrastructure, regulatory and policy perspectives, project development and finance, economics and valuation, as well as compliance with safety and performance standards.
Panel moderators include:
Gary Brinkworth, director of technology and innovation at TVA
Richard Simmons, director of energy policy and innovation center at the Georgia Institute of Technology
Charlie Vartanian, senior technical advisor at Pacific Northwest National Laboratory
Steve Baxley, R&D manager at Southern Company Services
Russ Weed, president of CleanTech Strategies
Michael Starke, energy storage program manager, Oak Ridge National Laboratory.
EVALUATING TECHNOLOGY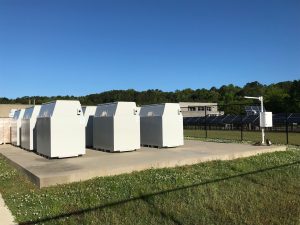 Attendees will be able to see the first grid-scale vanadium-redox flow battery test system from Avalon Battery to be tested and researched at Southern Research. Southern Research is partnering with Southern Company, EPRI, DOE and Oak Ridge National Laboratory to comprehensively evaluate the Avalon technology at the new Energy Storage Research Center, located on Southern Research's Oxmoor campus.
The test system is expected to be integrated into the Southern Company system's infrastructure after an extended period of grid-connected performance and safety testing in compliance with an industry-wide developed test manual.
"Flow battery systems have been around for years, but their adoption into mission-critical parts of utility infrastructures has been very limited," Taube said.
"Flow batteries offer longer-duration energy storage, which makes them a potentially valuable option as a technology choice; however, researchers must continue to evaluate how they can be used to support grid-scale transmission and distribution systems."
ENERGY STORAGE RESEARCH CENTER
This year's symposium takes place on the heels of Tuesday's ribbon-cutting ceremony for the Energy Storage Research Center, Alabama's first industrywide resource to accelerate the development and deployment of energy storage technologies. The center is designed for third-party innovators from the electric utility industry, academia, government and technology companies to research, develop and demonstrate energy storage solutions.
Symposium attendees will learn more about the technologies and innovations under way at the Energy Storage Research Center and at other laboratories and utilities nationwide.
This year's event will offer detailed perspectives on energy storage overall and with respect to policy and regulation. It will provide participants the opportunity to explore the various factors that impact current and future energy storage efforts in the Southeast and beyond.