Southern Research scientists have been attacking cancer since the organization's early days, developing successful approaches to chemotherapy, screening biological agents that kill cancer cells, and making other advances.
A key contribution to this fight involves the organization's track record for discovering FDA-approved anticancer medicines.
"Of the 200 or so drugs currently used to treat cancer, seven were discovered at Southern Research," Dr. Francis Collins, director of the National Institutes of Health, said in a video message to mark the Birmingham-based non-profit's 75th anniversary in October.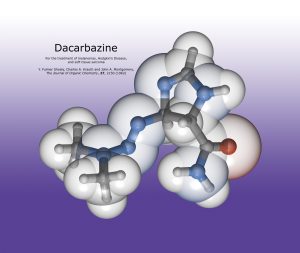 Collins noted that two of Southern Research's cancer drugs are on the World Health Organization's List of Essential Medicines, indicating their critical importance to oncology. They are fludarabine, a treatment for chronic lymphocytic leukemia (CLL), and dacarbazine, used against malignant melanoma and Hodgkin's lymphoma.
"At Southern Research, we have developed seven anticancer drugs and made critical advances in basic research that have deepened our understanding of cancer," said Art Tipton, Ph.D., the organization's president and CEO.
"We will continue to use our deep science and development tools to work toward novel treatments for a disease that kills a half million Americans each year," he added.
Southern Research's first anticancer drug, dacarbazine, received FDA approval in 1975 and remained a front-line treatment against melanoma for many years. Its seventh FDA-approved drug, pralatrexate, entered the market in 2009 as a treatment for aggressive blood cancers.
EXTENDING LIVES
The road to FDA approval is long, as the timeline for pralatrexate demonstrates.
Research on drugs in this class began in the 1950s at California's SRI International. A partnership between Southern Research, SRI and New York's Memorial Sloan Kettering led to clinical trials on related compounds beginning in the 1980s.

Once pralatrexate was identified as viable clinical candidate, it was licensed to Allos Therapeutics for additional development in 2002. FDA approval for pralatrexate (brand name: Folotyn) as a treatment for peripheral T-cell lymphoma came in 2009 – six decades after the initial research began.
"We prepared and tested many compounds before finally identifying a substance that gave favorable results," Southern Research organic chemist Robert Piper said at the time. "We are very glad our compound will help alleviate human suffering and extend lives."
Piper's role was to synthesize quantities of high-purity pralatexate used in preclinical investigations.
Piper was also involved in the discovery of amifostine, an FDA-approved medicine that protects patients from harmful effects associated with radiation treatment and chemotherapy.
THE 'DREAM TEAM'
The foundation of Southern Research's success in drug discovery was laid in the 1950s, when the organization assembled what former CEO Jack Secrist, Ph.D., has called the "Dream Team" in cancer research.
Under the overall direction of Howard Skipper, the leadership team was composed of John Montgomery, Frank Schabel and Lee Bennett, who headed the Organic Chemistry, Chemotherapy and Biochemistry departments at Southern Research, respectively.
"They worked together for many years, and together with their staff, were a very effective team," Secrist said in an interview.
The Southern Research team established an efficient and effective approach to the development of potential new drugs, he said.
"New compounds were evaluated rapidly, and those with potential were subjected to more detailed evaluations as soon as possible, and compounds that had no activity or weak activity were set aside to make way for new compounds," said Secrist, who once headed Southern Research's Drug Discovery division.
This approach to drug discovery is still in use at Southern Research today, he added.
The contribution of Montgomery, a member of Southern Research's cancer team for more than 40 years, was particularly significant. He was involved in the discovery of five FDA-approved anticancer drugs: lomustine, carmustine, dacarbazine, fludarabine, and clofarabine.
"This is what we all aspire to as drug discovery researchers, moving life-saving compounds from conception to clinic," said Secrist, co-inventor of clofarabine with Montgomery.
Read a story about how clofarabine helped save the life of a teenage leukemia patient.
This is Part Nine of a series looking at the history of Southern Research.