Frances Grace Hirs and Jack Secrist have never met, but their paths have crossed.
Frances Grace is a 17-year-old junior at Fairhope High School, a member of the National Honor Society who enjoys painting and recently started driving. She's making plans for the future and may pursue a career in pediatric oncology.
"She is flourishing," said her mother, Debbie. "She's just amazing."
Frances Grace is also a fighter. She has battled acute lymphoblastic leukemia (ALL) since she was 3 years old – and that's the source of her connection to Secrist, the former head of Southern Research's Drug Discovery division.
Secrist, Ph.D., is co-inventor of clofarabine, a therapy for children whose leukemia has returned after two types of treatment have failed. Frances Grace received clofarabine while being treated at Children's Hospital of Alabama during the summer of 2013, following a second relapse.
Debbie Hirs believes the drug discovered by Southern Research helped save her daughter's life by getting Frances Grace's leukemia into remission so that a bone marrow transplant could be performed on Sept. 7, 2013.
"Thank goodness there are people out there doing that work," said Mrs. Hirs, who visited Southern Research's Birmingham offices with Frances Grace and husband Allen last month.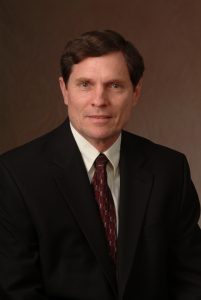 Secrist retired from Southern Research after a 34-year career and now lives in Michigan. He said it's actually rare for the inventor of a cancer drug to meet someone who has been treated with that drug. But he knows the life-changing impact that work in the drug discovery field can have.
He glimpsed it first-hand at the Food and Drug Administration hearing when approval was granted for clofarabine back in 2004. (Read a story about the discovery of clofarabine.)
"A father brought his son to the hearing and he took advantage of the public forum to relate the story of his son and how this drug has certainly saved his life," Secrist recalled.
"He was holding the boy, who was perhaps five or six, in his arms as he spoke. It was a moving scene."
TRANSPLANTING HOPE
Frances Grace was diagnosed with the deadly blood cancer in 2003, after severe back pain left her screaming in agony. Her parents decided to make the 260-mile trek to Children's Hospital for treatment, and she was soon in remission.
But in 2009, when she was in the third grade, Frances Grace felt a pain in her side after ballet class. Doctors confirmed that the leukemia had returned. A second round of chemotherapy at Children's returned positive results.
In April 2013, the disease came back. Frances Grace's third bout with ALL was serious, because her chemotherapy options were growing limited. She needed a bone marrow transplant but couldn't undergo the procedure unless she was in remission.
"The transplant was her last hope," Mrs. Hirs said.
Frances Grace's doctor recommended clofarabine, and the drug worked rapidly, making the transplant possible, Mrs. Hirs said. The teenager still faced a long, difficult recovery period, but she was able to return home shortly before Christmas 2013.
Last month, Frances Grace met her bone marrow donor, when Bryan Schneider of New Braunfels, Texas, traveled to Birmingham for a ceremony at Children's Hospital.
The Hirs family visited Southern Research after learning clofarabine had been discovered there.
DISCOVERING CLOFARABINE
The work that led to clofarabine began around 1983, when Southern Research scientists were searching for new anticancer drugs based on nucleosides, the building blocks of DNA.
Secrist said the team saw promise in two potential drugs, but an evaluation revealed structural concerns with both. He and John Montgomery, Ph.D., a key member of Southern Research's drug discovery team, formulated a plan. They set out to create new compounds that would disrupt DNA function in cancer cells in a similar way while lacking the structural issues that had raised concerns with the others. *
"We made this series of compounds, and the end result was clofarabine," said Secrist said.
Later, while clofarabine was in clinical development at M.D. Anderson Cancer Center in Houston, a chance development proved critical in the drug's long journey toward FDA approval.
"A family had a child that had gone through the available drugs for his leukemia, and he was not responding," Secrist said. "They asked to be able to try clofarabine, which was not yet available for trials, and their request was granted.
"The child responded immediately, and the family was truly grateful," he added.
When clofarabine received FDA approval on Dec. 28, 2004, it was the first new drug to treat childhood cancers in a decade. The drug, marketed in the U.S. by Sanofi Genzyme, carries the brand name Clolar.
The Hirs family is deeply grateful for the medical research that has benefited Frances Grace. They organized a golf tournament in Baldwin County to raise money for Children's and cancer research. The tournament, now in its 12th year, has raised $700,000, including $110,000 last year.
"People need to know that it takes money to do these things," Allen Hirs said. "It just takes a lot of people and a lot of effort."
*Both of the other compounds – fludarabine and cladribine — won FDA approval as treatments for leukemia. Fludarabine, first synthesized by Montgomery, was approved in 1991 as a therapy for chronic lymphocytic leukemia. It's one of five cancer drugs invented or co-invented by Montgomery while at Southern Research.