The U.S. Department of Energy (DOE) has selected Southern Research for an award of up to $1.5 million to advance technology for carbon dioxide (CO2) utilization. The DOE award, now being negotiated, will fund scale-up and field testing of a catalytic process for conversion of CO2 and shale-derived ethane to ethylene, a valuable olefin.
Olefins serve as building blocks for a sweeping variety of products such as packaging, plastics, textiles, paints and electronics. Industrial demand for olefins such as ethylene and propylene is rising at 4 to 5 percent annually as living standards improve across the world.
Over last two years on a previously funded DOE study, Southern Research has developed a novel nano-engineered catalyst-driven process for the production of light olefins, such as ethylene, using CO2 from coal-fired flue gas and lower alkanes derived from shale gas feedstock.
This lab scale study demonstrated the conversion, selectivity and stability of this new generation catalyst in presence of flue gas impurities and low concentrations of CO2.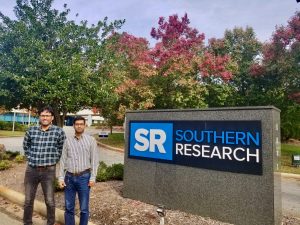 The results of the lab scale study led to this new award, which consists of constructing and operating a field scale unit. This project will produce and test a larger amount of catalyst and validate both the process reliability and the ability to produce ethylene at the next engineering scale.
"Ethylene and propylene are the highest volume petrochemicals in use today. Current production methods are capital- and energy-intensive as well as large greenhouse gas emitters," said Corey Tyree, Ph.D., senior director of Energy and Environment at Southern Research.
"By combining CO2 with shale gas, which is readily available in the U.S., our new process promises to have meaningful economic and environmental impact," he said.
The project's long-term goal is a commercially viable and environmentally friendly technology for producing light olefins via CO2 utilization.
ENVIRONMENTAL BENEFITS
Production techniques for ethylene, which is manufactured in amounts greater than any other chemical, typically use naphtha or ethane as raw materials, and require a large amount of energy to crack apart molecules.
Amit Goyal, Ph.D., director, Sustainable Chemistry and Catalysis and principal investigator, said Southern Research's innovative process concept can use CO2 directly (or captured) from coal-fired power plants, or derived from any source, to produce light olefins. The new technique can yield significant environmental benefits by becoming a net consumer of CO2, he added.
"Ethylene alone accounts for 1 percent of the world's energy consumption and 180 to 200 million tons of CO2 emission," Goyal said. "Due to the large magnitude of ethylene production, any reduction on the energy requirement will be highly impactful."
The approach would reduce carbon dioxide emissions from coal-fired plants, the top emitters of the colorless, odorless gas in the U.S power sector. In 2015, coal-based power plants in the United States emitted nearly 1.4 billion metric tons of CO2.
"Coal is abundant and cheap, making it a vital energy source," said Jadid Samad, Ph.D., advanced chemical engineer and co-principal investigator for Southern Research. "A smart solution to the issue of emissions from coal-fired power plants lies in the prospect of using CO2 as feedstock to produce valuable chemicals."
CONVERTING CO2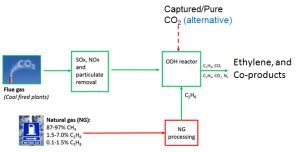 Samad said Southern Research's approach on the project directly supports the Carbon Use and Reuse research and development portfolio being assembled by DOE's Office of Fossil Energy. The portfolio is developing and testing novel approaches that convert captured CO2 from coal-fired power plants into useable products.
The funding from the Office of Fossil Energy for Southern Research's project totals $1,499,442. The office announced Oct. 31 that it has committed a total of $18.7 million to funding projects to support its Carbon Use and Reuse R&D portfolio.
Southern Research's partners include 8 Rivers Capital LLC, a company developing and commercializing sustainable infrastructure technologies, which will provide support on the project's techno-economic analysis.
The National Carbon Capture Center, a DOE site for testing innovative technologies, also is teaming with Southern Research on the project and will provide the field site and flue gas feed generated at a utility plant.
In addition, a petrochemical consultant will provide guidance on catalyst development, as well as scale-up and commercialization aspects of the project.
---
Stay up-to-date with SR's research, discoveries, upcoming events and more: sign up for our monthly newsletter.