In honor of Women's History Month and Histotechnology Professionals Day, Southern Research wants to take a moment to recognize our team of histotechnologists and their team leader, LaVinia Ray.  She was deemed by the National Society of Histotechnology to be the 2020 Histotechnologist of the Year and the 2016 Advanced Laboratory Technician of the Year.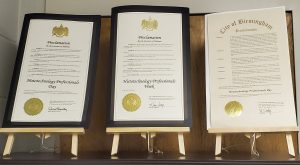 LaVinia was able to receive a proclamation from the Governor of Alabama to name this week Histotechnology Professionals Week and from the Mayor of Birmingham to mark March 10th Histotechnology Professionals Day in Birmingham.  She constantly lifts up her team members and enjoys bringing her team deeper into the field by helping them get ready to sit for their HT American Society of Clinical Pathologists certification exam.  We're proud to have her and her team with us at Southern Research.
Histotechnology is a science that centers around the microscopic detection of abnormal tissue that helps in the diagnosis and treatment of diseases.  This knowledge and understanding of composition is what allows pathologists to give a clinical diagnosis and treatment plan based off of differences in appearances from healthy tissue and the abnormality.
Our highly skilled technicians are HT American Society of Clinical Pathologists (ASCP) certified or certification eligible experts in their field.  Our full-service laboratory team has established a long track record of proven success and high quality work.  Southern Research provides necropsy and histology services tailored to the unique needs of research and veterinary clients.  If you want to know more about the customized services that our qualified team can offer, check out our page on Anatomic and Clinical Pathology.