College students from across the U.S. are getting firsthand experience with the innovative work conducted at Southern Research in the latest generation of the nonprofit's internship program.
Interns from Princeton University, Emory University, the University of Virginia, Birmingham-Southern College, the University of Alabama, and the University of Alabama at Birmingham (UAB) are among those who have participated and gained experience similar to that found in potential future careers.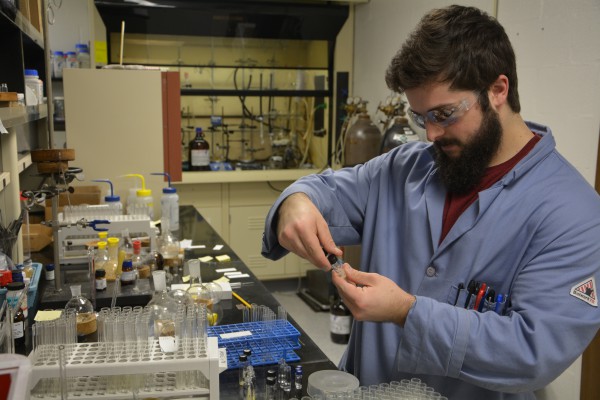 The internship program within each department at Southern Research (SR) offers different opportunities. In general, most students do research for course credits. During the summer months, SR has paid interns which allows the students to gain additional experience outside of the classroom.
Southern Research has had various internship programs, but the newest program was initiated by Corinne Augelli-Szafran, Ph.D., director of the Chemistry Department in the Drug Discovery division.
"The intern program at SR is an excellent opportunity for the students to get hands-on experience in a laboratory. In addition to having the students exposed to a drug discovery environment, this program contributes to the Chemistry Department while reaching out to the community," she said. "This type of program is good for everyone involved."
In the Chemistry Department, a team of more than 25 chemists works on various research programs, including those involving treatments for Lou Gehrig's disease (amyotrophic lateral sclerosis), Parkinson's disease, Alzheimer's disease, tuberculosis, kidney disease, HIV, and a wide range of cancers. The department is responsible for the preparation of potential new chemicals that will become drugs.
INITIATING A PROGRAM
Augelli-Szafran's career in drug discovery research spans 30 years, with stints at Harvard Medical School, Parke-Davis, and Pfizer. At both of the big pharma firms, there were internship programs that drew students from neighboring universities into the workplace. At Harvard, she initiated a student internship program similar to the one she initiated at Southern Research.
When she came to SR, there was no such program in place at the time. What resulted in the Chemistry Department, is a program where students can earn course credits. Throughout the term, the students work with a mentor and do a presentation or write a research report at the end of the term.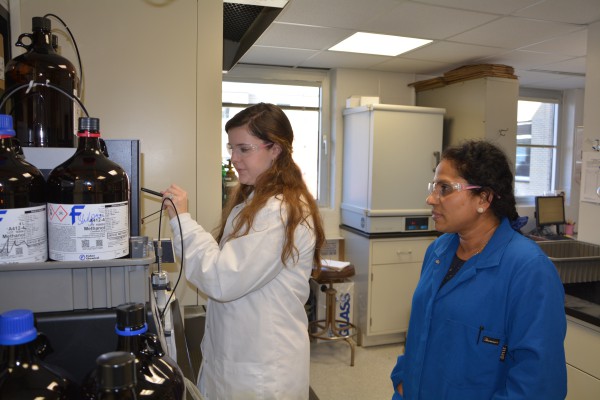 "It's been over a year now since we started the program, and we've had seven students come through in Chemistry," she said. "They work in the lab, they do chemistry reactions, they make compounds, isolate them, purify them and characterize them – the same things a chemist would do."
During their time in the program, if students are able to make a few compounds to be tested, it's a major accomplishment, Augelli-Szafran added.
"It's a great experience to learn how to do the chemistry. It's just great exposure, and it can sometimes help the students decide what to do after undergraduate studies, whether to pursue further education or seek a job in a certain specialty."
LAB EXPERIENCE
For the Drug Development division, the nine interns who worked there last summer served a great need, said Sarah Ziegler, Ph.D., biosafety program and compliance manager.
The group mainly worked on biosafety issues – keeping workers safe and regulatory compliance – in the division that is focused on taking pharmaceuticals and equipment to market and all that entails. The Drug Development division is responsible for a wide range of testing activities.
Out of the nine interns, Southern Research hired three for full-time positions after their internships were over.
"It was a way for us to get in help, but they also had a great perspective in a more innovative way," Ziegler said. "They were mostly focused on biosafety and working with us on inventorying samples. They also did paperwork for us and lab cleanup. It was not necessarily the most fascinating work, but it was definitely very helpful for us."
For the interns, the experience offered real-world work experience in a lab setting, she said.
"They actually had a lab they were in charge of, so they were understanding how to function in that arena. Their projects spanned the whole Southside campus. They interacted with people from Drug Discovery and Drug Development, and they met researchers in every lab."
Part of the program involved a weekly lunch and learn where Ziegler invited interns from across the campus to hear from Southern Research scientists and other professionals.
"We had people talk about quality, human resources, Zika, influenza and more. It was really interesting, and I even learned things about my organization I didn't know," Ziegler said.
EXPLORING CAREERS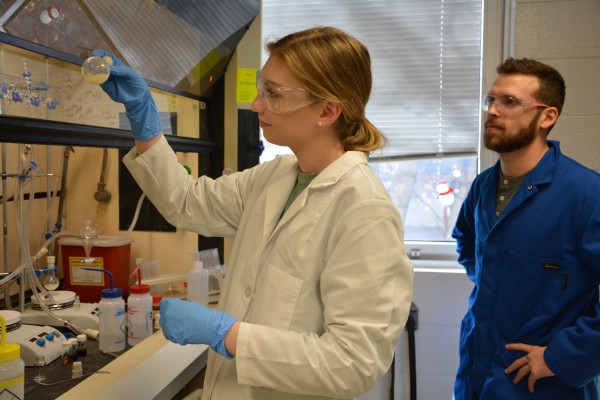 Interns working in the Drug Discovery division say the experience they have gained is invaluable.
Birmingham-Southern College students Katie Russell and Abigail Holt are both interning at SR during the month of January to explore their future career and education paths.
Russell, a junior chemistry major, is learning organic synthesis techniques and how to analyze structure and purification data. She is an intern for postdoctoral researcher Shilpa Dutta, Ph.D., who is working on small molecule inhibitors for cancer therapeutics.
"I'm interested in the drug discovery career path, and I want to go to grad school," Russell said. "I've done research work for one of my professors at Birmingham Southern, and I wanted to see how the process varies in an industry setting."
Holt, a sophomore chemistry major, said she's always been interested in pharmaceuticals and she's trying to decide whether she wants to work as a researcher for a large firm.
"I think I'm really learning the most about day-to-day life and how professional chemists do their jobs instead of just being in a lab with a bunch of my classmates," she said. "Even if I don't end up becoming a researcher at a big pharmaceutical company, this internship has been really helpful in figuring out what I want to do. I'm glad I had the opportunity."
UAB seniors Jaden Cowan and Daniel Unger are in the middle of longer internships. Cowan has been with Southern Research since last May, while Unger joined in August.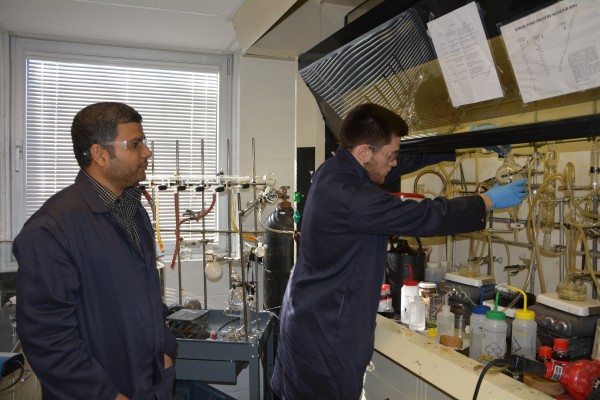 Cowan, a chemistry major, initially did the internship for school credit, and he liked it so much he signed up for another semester to do his senior thesis. The thesis is on the work he's done so far, which is creating compounds that could be used in an anti-viral drug.
His ultimate goal is to become a research scientist. During his time at SR, he has set up experiments, monitored those, run tests on the compounds, and analyzed the results.
"Since I've been here, I've decided I'm going to try to obtain a Ph.D. in chemistry, and all these skills I've learned so far during this internship are going to be directly used in graduate school," Cowan said. "This is good experience working in a professional lab alongside professional researchers. They're prepping me so I can be independent and work in a lab by myself later on."
Unger, a chemistry and neuroscience major, joined Southern Research after reconsidering his career plans.
"I added my chemistry major in the spring of last year, after I decided to look into career options other than medicine. I came the realization that I really enjoyed teaching," he said. "So I decided to get a Ph.D. in chemistry, and I needed hands-on experience in the lab."
Currently, Unger is working with a team on a project to develop a small molecule inhibitor as an anti-HIV therapy, a compound that essentially stops the virus from being able to replicate itself.
He sets up reactions on his own, as guided by his research mentor, and he follows the reactions, checking to see when they are completed. He also isolates and characterizes products from various reactions.
"It's absolutely been beneficial, and I feel I've learned a lot. I have a much better grasp on what's involved in doing the work as I prepare for grad school," Unger said.
ATTRACTING TALENT
Dr. Bo Xu, MD, Ph.D., distinguished fellow and chair of the Oncology Department, said the internship program helps Southern Research attract more talented people to join the nonprofit.
Xu notes SR's long and storied history when it comes to cancer research, which dates to the 1940s and includes more than $90 million in grant funding from the National Institutes of Health alone.
"It is part of our mission that we want to attract more talented people to join us, to be future scientists," he said. "We want to see them get involved and engaged in the early stages of their career and training."
Interns in the Oncology Department typically are assigned a small project, as well as a mentor who provides hands-on training. They're taught how to design an experiment, analyze the data, write a report and present it to the entire department at the end of the term.
The subject matter the interns are studying is the cutting edge of cancer research, Xu said.
For example, this year a student from UVA shadowed a Southern Research scientist and learned about immunology/oncology research, specifically how to culture lymphocytes and how to design experiments for potential treatments.
"Basically we are having more young people come and learn and understand what science is, what cancer research is and how cancer research can help people," he said.