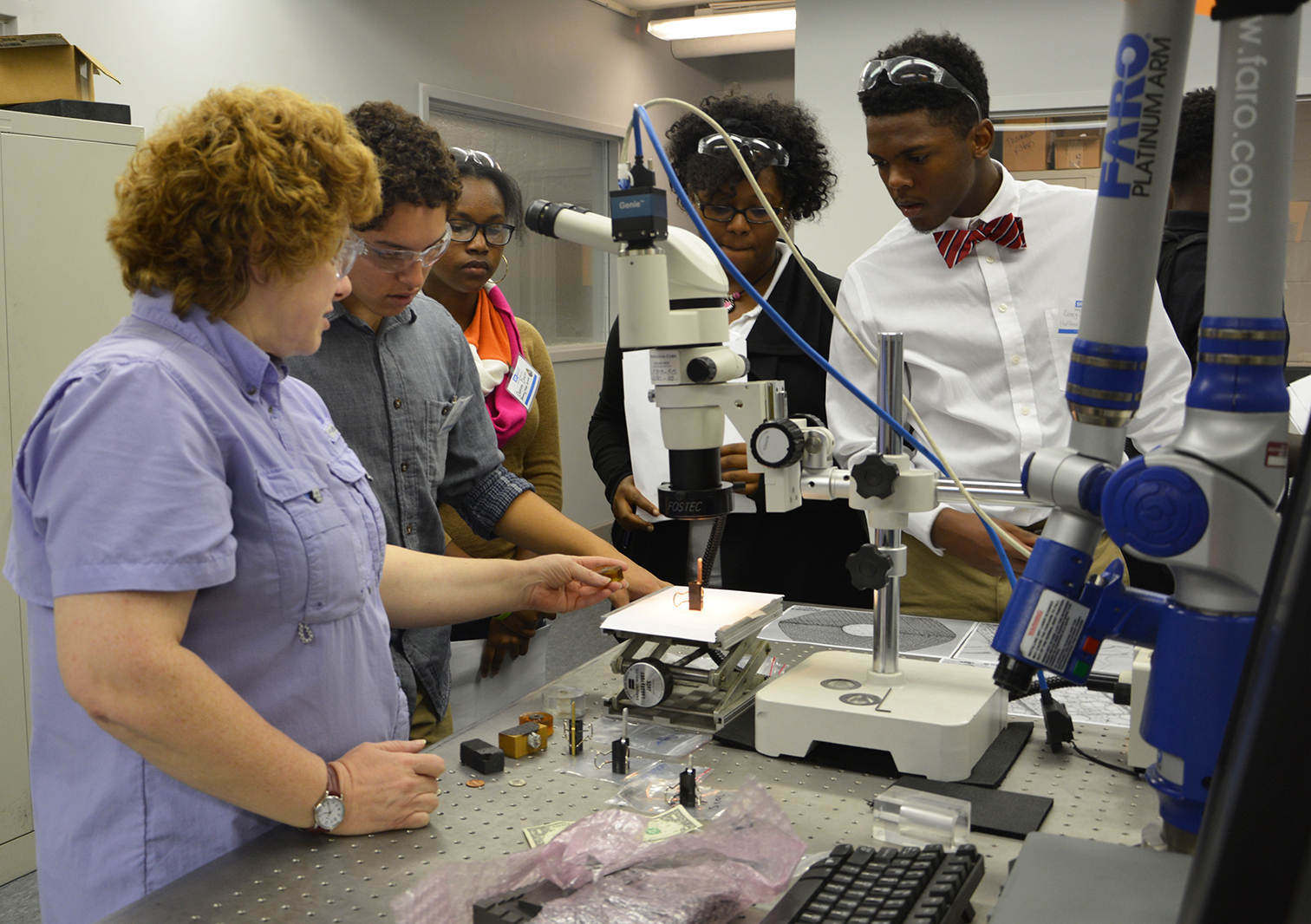 BIRMINGHAM, Ala. – October 22, 2015 – On Thursday, October 22, a total of 40 students from George Washington Carver High School, Holy Family Cristo Rey High School, Huffman High School, P.D. Jackson-Olin High School, Ramsay High School, and Vestavia High School visited Southern Research's Birmingham campuses to participate in life sciences and engineering experiments with SR scientists and engineers.
This was part of SR's second annual Future Scientists & Engineers of Alabama – the organization's local community outreach initiative to further educate high school students who show interest in science, technology, engineering, and mathematics careers.
"We have scientists and engineers working every day to solve some of the world's hardest problems, and having these students interact with members of this team, and doing so in a real-world, R&D setting, gives them a view to a range of career choices available to them," said Art Tipton, Ph.D., Southern Research president and CEO. "We hope the interaction continues their inspiration for technology and further equips them for living in our knowledge-based world, wherever the future takes them. And we hope some of these students become future scientists and engineers in our city and at Southern Research."
SR scientists and engineers instructed and supervised the freshman, sophomore, junior and senior high school students as they conducted experiments within SR drug discovery, drug development, and engineering labs. Experiments were followed by a group Q&A session with the students and SR scientists and engineers.
Additionally, students attended an evening reception in the courtyard of SR's Southside headquarters where they met with business, government, and non-profit executives from across Alabama.
The Experiments
Engineering: Students were able to perform several tasks that both engineers and technicians at SR's Engineering Research Center perform every day for customers such as NASA, Boeing, and the U.S. Navy. The work done at ERC provides valuable information needed to develop and improve materials used in spacecrafts, rockets, turbines, airplanes, and missiles. Students were exposed to many different technologies that are used to produce real-world material property data that engineers utilize every day to perform their jobs, and they saw how science and mathematics play an integral part in producing that data. Participants performed both destructive and non-destructive tests on five metal materials. The non-destructive tests measured the density and ultrasonic velocity of the different materials. A destructive test, called a tension test, was performed by pulling apart a specimen until it broke, and different technologies were used to measure the load to break the specimen and how much it stretched before it broke.
Drug Development: Midazolam is a common anesthetic within the benzodiazepine family, and it is known to be metabolized by the liver. In the Drug Development experiment, students cultured liver cells in a three-dimensional bioreactor and dosed them with midazolam. Media aliquots were taken at different time points, and mass spectrometry was performed to monitor the metabolism of midazolam. Biology and chemistry were the foundation of for this experiment, while physics and engineering were principles used in developing the three-dimensional bioreactor. While midazolam is a well-studied compound, similar experiments are performed in the development of next-generation pharmaceuticals.
Drug Discovery: In SR's Drug Discovery labs, students performed experiments that applied both biology and chemistry: DNA extraction and agarose gel electrophoresis; analysis of the principles and uses of fluorescence microscopy, including an overview of a typical staining protocol and visualization of various organelle and protein stains; and synthesis of aspirin – the first research-based pharmaceutical.
Since 1941, Southern Research has been conducting innovative science and engineering work that helps make people's lives better. Here are just a few highlights of that work:
Developed seven FDA-approved cancer drugs, and is developing 18 other treatments for diseases as part of the Alabama Drug Discovery Alliance with the University of Alabama at Birmingham
Developing vaccines to combat infectious diseases around the world
Created a state-of-the-art solar research facility to study the effects of the Southeast's unique atmospheric conditions on solar power systems
Helping to make water safer and provide healthier habitats for fish and wildlife
About Southern Research
Southern Research is a not-for-profit 501(c)(3) scientific and engineering research organization, founded in 1941, that conducts preclinical drug discovery and development, advanced engineering research in materials, systems development, and environment and energy research. Approximately 450 team members support clients and partners in the pharmaceutical, biotechnology, defense, aerospace, environmental and energy industries. SR is headquartered in Birmingham, Alabama. Additional laboratories and offices are located in Wilsonville and Huntsville, Alabama, Frederick, Maryland, Durham, North Carolina, Cartersville, Georgia, and Houston.