Mark Patterson, an engineer and innovator with broad experience across a sweeping range of technology disciplines, has joined Southern Research's Engineering Division to lead business development efforts focusing on the aerospace industry.
Over a 30-year career, Patterson, Ph.D., has made significant technical contributions to fields as diverse as advanced materials and climate change research. He has been heavily involved in all aspects of R&D projects and worked with key government agencies and major defense contractors.
For Southern Research, Patterson will concentrate on identifying new business opportunities and potential collaborations for the organization's engineering team.
The Engineering Division's areas of specialization include high-temperature testing of materials, non-destructive evaluation technologies, mechanical testing of components in extreme conditions, and the development of complex sensing devices.
"Mark brings a richly diverse background that is highly relevant to our specialized technical areas at Southern Research," said Michael Johns, vice president of Engineering at the Birmingham-based non-profit organization.
"With his wide-ranging expertise, Mark can help us build on fields where we are already industry leaders and pinpoint new opportunities in disciplines where we can grow to become leaders," he added.
DIVERSE CAREER
Patterson has considerable experience in research and development activities, having managed $60 million in projects spanning the complete R&D lifecycle, from funding acquisition to technology development and product delivery.
He has directed efforts involving an array of different technologies – sensors, advanced materials, ceramics, additive manufacturing, autonomous systems, and mineral extraction, among others. He's also been involved in efforts focusing on climate change, artificial bone implants, nuclear waste, energy, environment, and counter terrorism.
In addition, Patterson introduced new manufacturing techniques for advanced ceramic materials and devised methods to fabricate transparent armor, infrared windows and domes, and machine tool inserts. He also supported pioneering robotics operations that used autonomous platforms to collect climate change data from volcanoes and glacial lakes, as well as through atmospheric profiles.
He has given numerous presentations at national and international conferences, published more than 80 papers, and holds four patents. He served as the technical secretariat for a U.S. Department of Defense handbook on ceramic matrix composites, a revolutionary lightweight material capable of withstanding extreme temperatures, and worked as a consultant to the Defense Advanced Research Projects Agency (DARPA).
EQUIPPED FOR GROWTH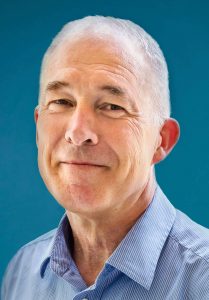 Patterson said Southern Research's longstanding partnerships with NASA, defense agencies and aerospace companies, along with an extensive set of technical capabilities, mean the Engineering Division is well positioned for growth opportunities.
"In aerospace engineering, there are several areas where Southern Research can have a significant footprint in the future. Obviously, we're well established in high-temperature testing of materials, and we will maintain world leadership in that," Patterson said.
"I'd like to see Southern Research continue our development in advanced additive manufacturing technologies," he added. "The development and use of additive manufacturing is going to require new qualification protocols and test methods, and we are well positioned to become world leaders in this area."
Patterson has previously worked with the Birmingham-based organization's Materials Research Department, which has made important contributions to the nation's space program and to defense projects.
"Mark has ties to Southern Research. Over the years, he has collaborated on various projects with the Materials Research Department," said Jim Tucker, the department's director. "We have had the pleasure of working with Mark for over 20 years. His insight into complex technical problems is well known in the industry and will be of great value to Southern Research."
Patterson has previously worked in research and technology roles for small businesses, Advanced Ceramics Research and Hydronalix, in Arizona; the University of Arizona, as director of research initiatives; and defense contractor BAE Systems, where he focused on unmanned aerial vehicles and advanced ceramics.
Patterson holds a doctorate in materials science from the University of Cambridge in England, a master's degree in materials science from Queens University in Canada, and a bachelor's in mining engineering/mineral processing from Camborne School of Mines at England's Exeter University.