A Southern Research scientist says a new generation of antiviral therapies is urgently needed against hepatitis B, a chronic disease affecting 240 million people whose cure has proved elusive.
Raj Kalkeri, Ph.D., a project leader and subject matter expert in infectious disease for Southern Research's Drug Development division, added that the stubborn characteristics of the hepatitis B virus (HBV) have thrown up significant hurdles slowing the discovery and development of a cure for this persistent viral infection.
"Because of its role in at least 650,000 deaths each year, hepatitis B constitutes a major international public health problem," Kalkeri said. "HBV persistence can lead to cirrhosis, liver failure and the primary form of liver cancer, hepatocellular carcinoma. This places a major burden on health care costs."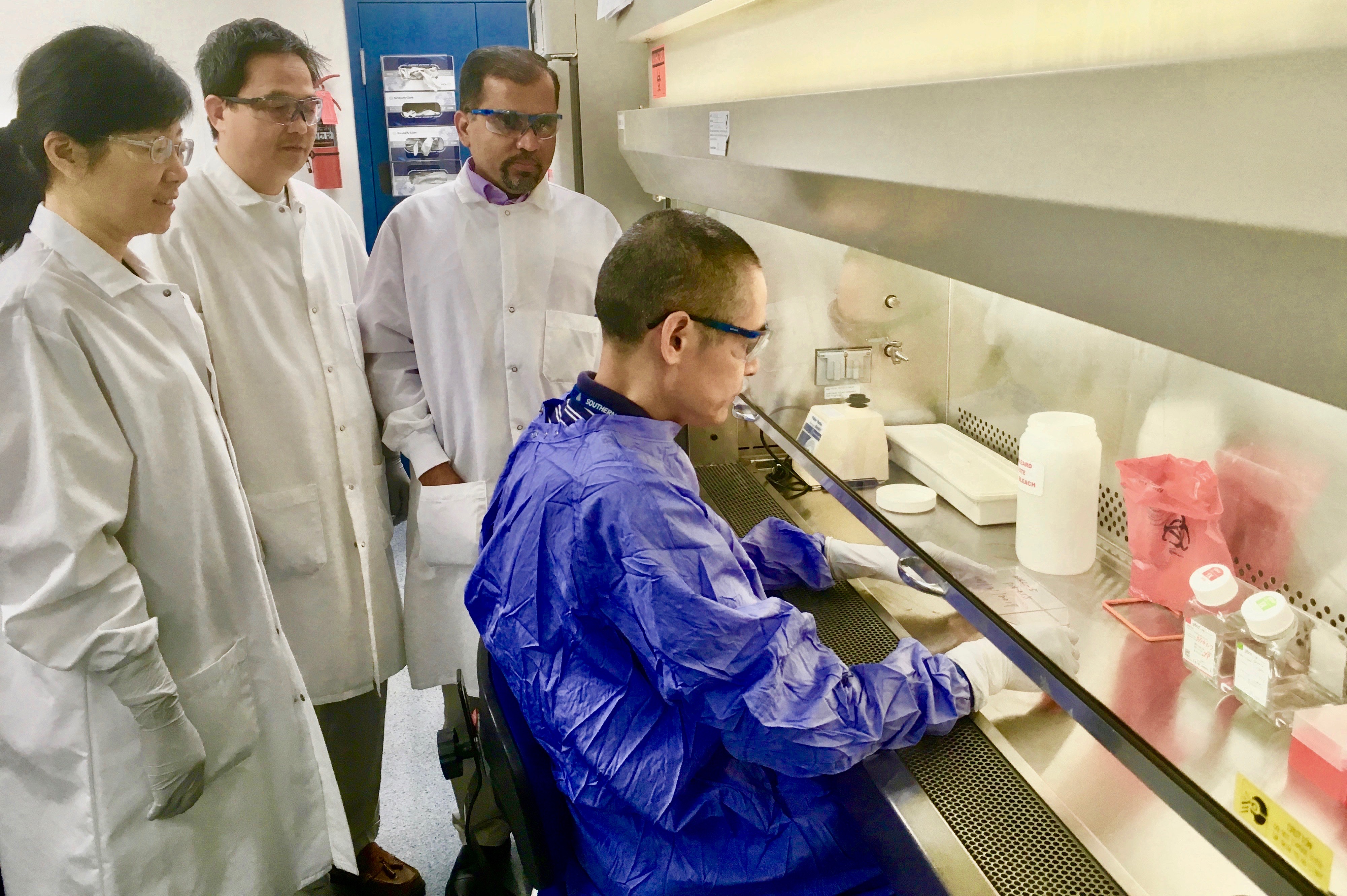 Birmingham-based Southern Research has been active in the effort to advance new treatments by developing comprehensive hepatitis B capabilities for researchers. This includes in vitro assays to monitor different phases of the HBV life cycle, along with a mouse model for persistent HBV infection that could be useful in testing a new generation of HBV therapies.
What's needed now, Kalkeri said, is greater cooperation within the scientific community and additional support for research that targets the infection's most challenging aspects, including its persistence and ability to suppress an immune system response.
"Concerted efforts across academia, industry and government are needed," he said. "Collaborations across these groups with additional research funding will facilitate better understanding of HBV persistence and the development of effective strategies to advance a functional cure."
COMBATTING PERSISTENCE
While there is a safe and effective vaccine for hepatitis B, it fails in 5 to 15 percent of persons receiving the vaccine. Smoking, obesity, other chronic illnesses and advanced age are some of the factors associated with vaccine failure.
Current antiviral therapies can halt the progress of the infection in some patients, but they don't wipe out all traces of the virus. That allows HBV to hide out for some time, before reappearing once therapy is completed.
Hepatitis B's persistence, which can turn the disease into a lifelong struggle for many sufferers, is a complex phenomenon, Kalkeri said.
For starters, the human immune system has a hard time clearing out hepatitis B. It begins when T-lymphocytes, a key component of the immune system that combats microbial intruders, fail to do their job because of disruption caused by the virus.
Reversing this defective T-cell response could be helpful in the development of new hepatitis B treatments, though it's probably not sufficient alone to play a starring role in a cure, Kalkeri said.
The major challenge with hepatitis B persistence is known as cccDNA, short for covalently closed circular DNA. This is a special DNA structure that's deposited in the nucleus of HBV infected cells in the form of minichromosome. Its strategic location makes it a difficult target for antivirals and for the immune system.
Present in low levels, the seemingly untouchable cccDNA continues to produce the virus even in patients being actively treated.
"As a result of the persistence of cccDNA, antiviral therapies now have to administered lifelong for a majority of HBV patients in order to avoid a reactivation of the virus," Kalkeri said.
"The bottom line is that long-term therapy is ineffective in eliminating HBV from infected patients and results in drug toxicity issues, as well as the emergence of viral resistance," he added.
REASONS FOR OPTIMISM
While there are promising signs that hepatitis B research is making progress, the persistence problem may ultimately put a final cure out of reach, Kalkeri said. What could emerge, however, is a way to control the disease's persistence, resulting a functional cure, he added.
"It's more realistic to hope for a functional cure for HBV, which means viral replication would be suppressed and other functions would be restored to a normal level," Kalkeri added.
One source of optimism revolves around the discovery that a cell surface protein known as NTCP acts a receptor for hepatitis B. In essence, NTCP opens the door for the virus to enter into healthy cells.
"With the discovery of NTCP, we could potentially use it as a tool in the laboratory to understand the mechanisms of HBV infection, cccDNA formation, and more," Kalkeri said.
"At a minimum, this kind of infectious cell culture model would enable identification of HBV entry inhibitors and pave the way for combination studies along with other antiviral agents against this infection."
Kalkeri said Southern Research's HBV cure assay capabilities are available to advance research. These testing platforms are:
IN VITRO
Virus yield assay (HepG2.2.2.15 cells)
Infectious virus assay (HepG2-NTCP)
HBV core promoter assay
Inducible HBV cccDNA model (HepDE19)
IN VIVO
Adeno-Associated Virus-HBV mouse model (C57BL/6)
Using the tools developed for the HBV program and in collaboration with Southern Research's Drug Discovery division, Kalkeri and his team have demonstrated the inhibition of HBV core promoter by a repurposed anti-cancer clinical candidate SRI-032007. The research shows that it is feasible to reduce the production of the viral genetic material in an in vitro laboratory setting. This work is being presented as a poster in September at the 2017 International HBV meeting in Washington, D.C. Additional testing in animal models of this compound is being planned. Finding new antivirals for HBV could complement the anti-HBV activity of current and help in the development of effective curative strategies.
Read an article on HBV by Kalkeri in Future Virology.