In 2014, Southern Research received funding from the National Institute of Allergies and Infectious Diseases (NIAID) through a multi-center U19 grant (U19AI109680) administered by the University of Alabama at Birmingham to conduct high throughput screening (HTS) against six disease-causing viruses: dengue, West Nile, SARS, influenza, Venezuela equine encephalitis complex, and chikungunya. With the program in place, and as Southern Research has completed screening the viruses, the National Institutes of Health (NIH) issued a supplementary $650,000 award for the Birmingham-organization to expand its program to include high throughput screening for Zika.
"Southern Research has a long history in antiviral research, including screening viruses in the same flavivirus genus as Zika, so we're pleased the NIH saw fit to expand the U19 program to include screening on Zika," said Bob Bostwick, Ph.D., director of the High-Throughput Screening Center at Southern Research. "For drug discovery purposes, we hope to identify compounds that work well across this entire genus."
According to the supplemental grant, Southern Research will construct an assay for Zika that can be conducted in HTS, and test over 300,000 compounds against the virus, a process that will take nine months.
Developing robust screening capabilities
For Southern Research, compound screening has been a part of the organization's efforts since the mid-1950s, when researchers began manually screening anticancer drugs under a contract with the National Cancer Institute (NCI). Around this same period, the Virus Research Division began evaluating antiviral agents against a wide range of pathogenic viruses, including the herpesviruses, poxviruses, acute upper respiratory disease viruses, and mosquito-borne viruses, such as Yellow Fever virus.
By the 1960s, the early work had already shown promise. Manual screenings conducted by the viral research team had identified the compounds that led to the discovery of Ara-A, an antiviral used to treat human herpesviruses, chicken pox, shingles, human cytomegalovirus — a cause of childhood hearing loss — and a lethal encephalitis.
In the 1980s, following the emergence of the AIDS epidemic in the United States, Southern Research expanded into HIV antiviral research through a series of contracts and grants with the United States Army and the NIH. This effort involved screening compound collections consisting of approximately 20,000 samples, and developing a staff of scientists proficient in working with many infectious diseases. By the following decade, the organization's anti-HIV screening program had become the largest in the country.
While earning a global reputation for producing high quality antiviral research, Southern Research's screening capabilities were expanding far beyond antivirals to include screening of other infectious diseases and cancer. In the late 1990s, the organization invested in emerging HTS technologies to maintain a prominent role at the forefront of drug discovery. This involved assembling a large compound collection — consisting of over 1 million samples — and acquiring robotic platforms for automated screening, thus enabling the organization to test hundreds of thousands of compounds for each new target. Eventually, the program would become involved in the NIH Roadmap Molecular Libraries initiative, and serve as one of twelve centers in the NCI Chemical Biology Consortium.
"Southern Research's in-house screening capabilities are unmatched by most universities and private research organizations across the globe," said Art Tipton, Ph.D., president and CEO of Southern Research. "With our Biosafety Level 3 (BSL3) facility, an active in-house library of over one million compounds, and a wealth of institutional knowledge, our researchers pride themselves on finding chemical structures needed to develop drugs against some of the greatest global health threats."
High Throughput Screening and drug discovery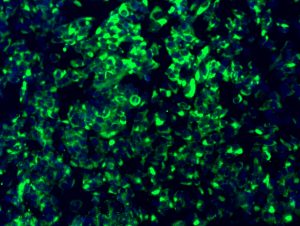 Today, HTS is an automated process that allows researchers to rapidly test a large number of compounds in order to determine their potential use as starting points for the invention of new drugs. With time and advances in technology, the process of screening compounds has evolved significantly from the early days. However, despite these advances, some things remain the same.
"Whether you are working on an antiviral or an anti-cancer medication, the drug discovery process is incredibly complex and often starts with screening," said Bostwick. "HTS usually requires screening hundreds of thousands of compounds to find three or four good chemical starting points for medicinal chemistry."
With the recent expansion of its U19 program to include screening of the Zika virus, Southern Research maintains a prominent global position in antiviral research. Its work has led to the fight against HIV/AIDS — supporting the United States government and numerous drug companies in the production of many of the FDA-approved antiviral drugs currently on the market — and screening of compounds that allowed for numerous other drug breakthroughs, including several against previously drug resistant strains of tuberculosis and malaria. Yet, despite this record of success, researchers admit a cure for Zika will still take time.
"Even though we know a lot about flaviviruses, discovering and developing effective therapeutic agents may take several years," Bostwick continued. "Just like any other project we've undertaken, we will use data as our guide and hope our efforts will yield results which can be helpful to the scientific community."