With backing from the Appalachian Regional Commission (ARC), Southern Research is launching The Prosperity Fund, a $2.4 million initiative to accelerate entrepreneurial activity and spark job creation in four Alabama counties rocked by the coal industry's steep downturn.
The Prosperity Fund's goal is to foster new start-up businesses and assist selected small firms in Fayette, Walker, Tuscaloosa and Jefferson counties, according to Corey Tyree, Ph.D., director of Energy & Environment-Alabama for Southern Research and project leader.
"Southern Research was founded to help Alabama remain resilient in the face of economic change by strengthening our existing industry and helping develop new ones," Tyree said. "This is about making what we have stronger, reinventing our economy."
The four counties being served by The Prosperity Fund represent the core of Alabama's traditional coal country, and they have been hit hard by the industry's decline. Since 2012, the counties have seen 12,000 jobs tied to coal mining disappear, resulting in $800 million in lost wages.
"These four Alabama counties have accounted for 10 percent of the coal job losses in the nation," Tyree said. "But this initiative focuses on moving forward. We have to look for new approaches to job growth and seek out new opportunities for these counties."
CREATING A SUPPORT SYSTEM
The Prosperity Fund, established as public-private partnership, will link Southern Research with community officials, business leaders and potential investors in a network to provide broad-based support for entrepreneurship in the four counties.
Tyree said the team will recruit and mentor existing businesses and start-ups, assisting them with fundamental activities such as customer discovery, market research and fundraising. It will work with venture capitalists, angel investors and other sources to raise funds to support business growth.
"This award is part of a blueprint for new jobs, fresh opportunities, and a robust economic future for Alabama," said ARC Federal Co-Chair Earl F. Gohl. "It is bringing added capital into the region and help Appalachia prepare to globally compete in manufacturing, technology, local agriculture, construction, and a variety of other industry sectors."
The Prosperity Fund has set a goal of facilitating the creation of 10 new businesses. Other objectives are:
Creating 80 jobs through business improvement and creation efforts
Increasing business revenue by $11 million
Leveraging $6 million in private investment
Assisting 10 existing businesses
Paul Kennedy, president of the Walker Area Community Foundation, said the Prosperity Fund can act as a catalyst for revitalization in a county with deep roots in the coal industry. Since 2012, Walker has lost more than 500 coal jobs, making it one of the 25 most severely impacted counties in the nation.
"Southern Research has 75 years worth of economic development experience," Kennedy said. "To be able to bring in a nationally recognized organization with their technical expertise, networks, and knowledge to work with our businesses just really excites me."
Kennedy said he believes that entrepreneurial successes spurred by the Prosperity Fund can inspire others in Walker County.
"When people are getting laid off, everybody is kind of blue. First, it's the miners. Then it's the insurance company. Next, the restaurant," he said. "The same thing happens in reverse when there is a positive development. The excitement ripples through the community, and optimism ripples."
ECONOMIC DEVELOPMENT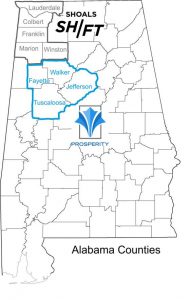 The Prosperity Fund stems from an ARC-funded study by Southern Research that examined strategies to boost job creation in Alabama's coal region. As part of that project, Tyree's team engaged with educators, economic development professionals, investors and others to build a coalition of advocates for renewal efforts.
The ARC is supporting The Prosperity Fund with a $1.2 million grant. Southern Research and its partners are matching the rest of the 30-month project's total cost.
"The Prosperity Fund project is another example of changing views of what economic development looks like," Tyree said. "One, it aligns with the idea that small businesses are the heart of the jobs economy.
"And two, it's also consistent with the idea that technology-based economic development strategies that suggest our community needs innovation assets like Southern Research to play a role in economic revitalization," he added.
Tyree believes momentum generated by The Prosperity Fund in the four coal counties will encourage private support that will extend its existence beyond the 30 months of the ARC funding.
Kennedy hopes that's the case.
"I hope this becomes a real marriage between their capacity and our capacity," he said. "Southern Research is on the cutting edge of research in technology, energy, water, pharmaceuticals. Just to know that they are paying attention to the wants, needs, aspirations and talents of my community is exciting."