Southern Research is gearing up to train a new class of teachers from high schools across Alabama.
The organization's Summer Internship Program for STEM Educators, or SIPSE, is entering its second year, and big changes are on the horizon.
The program has expanded to include 14 intern spots, up from six last year. It's also moving beyond Birmingham, said Kathryn Lanier, Ph.D., Southern Research's STEM Education Outreach Director.
"The whole idea of SIPSE is to make it a statewide program and to find other entities to host a teacher. This year, we worked hard to find partner organizations to host teachers, and we will be able to place a teacher at both the University of Alabama and the University of West Alabama," she said.
SIPSE Fellows spend six weeks learning first-hand how scientists and engineers approach problems, design experiments, interpret data, communicate findings and develop and implement workplace solutions.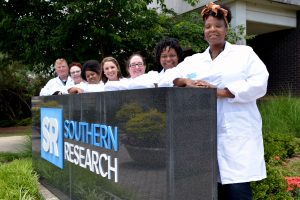 The program offers the educators real-world applications of the subjects they teach, as well as practical examples of science, technology, engineering and mathematics studies they can pass on to their students. Participants receive a $4,500 stipend.
Applications for the 2019 class of interns are due Friday.
IGNITING PASSION
Twelve positions will be located at Southern Research's Birmingham campus, where they will be assigned specific projects and paired with researchers from the Drug Discovery, Drug Development and Energy and Environment divisions.
Project topics include bioprinting a 3-D tumor environment, identifying environmentally friendly production methods for commodity chemicals and studying the development and treatments for chronic sepsis and Parkinson's disease.
The fellows at UA in Tuscaloosa and UWA in Livingston will work with professors at the schools, and their projects are tailored for those regions.
For instance, the UWA project is titled "Tapping into Microbial Diversity of Alabama's Black Belt." It involves identifying the microbial community in Black Belt soil to discover antibiotic-producing bacteria, as well as beneficial microbes for improvements in farming practices.
By the end of the summer, the fellows must devise a strategy to improve the way STEM subjects are taught in their classrooms, based on their internship experience. The program then provides $500 worth of supplies to implement the strategy.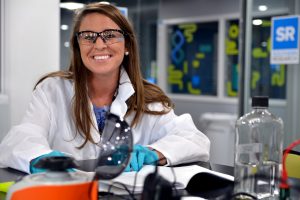 Lanier said SIPSE has drawn a wide range of participants, from teachers with doctorate degrees to those who have never worked in a lab.
But for all of them, the program's goal is the same: to ignite a passion for discovery that they take back to their students.
"The more teachers we can get in here and actually experience real science, the better," Lanier said. "Maybe some of them majored in education, and the lab setting is new to them. Or maybe they've been doing this for a long time.
"Like anything you do in life, once you've been at it for a while, you just fall into a routine. We really want to get teachers in here and spark that love they had for science 20 years ago."
EMPOWERING STUDENTS
Hoover High School teacher Janet Ort, who participated in last year's SIPSE program, called it an amazing opportunity to delve into a subject, project or process far beyond the everyday classroom.
"Science teachers are a curious bunch," she said. "We want to understand why and how things work. We want to investigate the world around us. We want to make it relevant and exciting for our students."
But, she continued, classroom teaching rarely allows the freedom and support to truly explore.
Ort, inspired by how pollution issues in Birmingham and beyond impact people, developed a handheld, inexpensive environmental sensor to help local communities as part of her SIPSE project.
Her dream is for these sensors, both handheld and stationary, to be available across the state and around the globe, collecting data acquired by cell signals.
At Hoover High, Ort leads a team of students — the BioBucs — who last fall chose to focus on particle pollution and its human impact. The group tested sensors and compared methods of data visualization. They gathered data that proved particles were present, as well as the potential mitigating effect of trees.
They then submitted the project to the Lexus Eco Challenge, a national STEM competition, and won the Southeastern Regional High School section, which meant scholarship money and grants for the school. Last week, they entered an extension of the project to the Grand Challenge to compete with 15 other projects for four top prizes.
Ort said the students are excited about teaching others how to create the sensors, and they hope to put them into action across Birmingham and Alabama.
"The Southern Research SIPSE program quite literally changed my teaching and life by pushing me into directions I had never thought possible," she said. "To empower students of all ages and really try to change the world is no small feat."
EXPANSION GOALS
Lanier said she hopes SIPSE continues to expand in the coming years, by adding partners in Mobile, Huntsville, Auburn and other areas of Alabama.
The program complements Southern Research's ongoing STEM education outreach efforts, including the new Birmingham STEM lab that hosts field trips and other events for students across the state.
SIPSE is a multiplier of those efforts, since it trains teachers who are then able to train students in STEM subjects more effectively and continue doing so with new students year after year.
The firsthand experience the program provides is a powerful teaching tool, Lanier said.
"When kids are in science and math class, and they're asking, 'When are we going to use this?' a teacher can just point to Southern Research and talk about the things we do. But it's an entirely different story when that teacher can say, 'I was on the team that created this cancer drug, and that's how you can use this.'
"It makes it more personal and more impactful, and they will be able to share the experience with their students for as long as they teach," she said.