Inside a Southern Research lab, a new 3-D bioprinter is silently stitching together a gelatin structure that mimics a human tumor, the device's precise movements directed by a computer program's highly detailed geometry.
In the future, Southern Research scientists will be able to use this tumor model, created with realistic three-dimensional architecture and implanted with living cells, as a revolutionary kind of testing platform to accelerate drug discovery efforts.
"Additive manufacturing technologies have the potential to improve how we develop drugs, which today is a hugely expensive process that too often fails," said Stacey Kelpke, Ph.D., program manager for medical device technologies at Southern Research.
"With 3-D bioprinting, we can create models using human cells in a tumor that is structured just like you would see in someone's body, increasing accuracy when drug candidates are being evaluated," she added.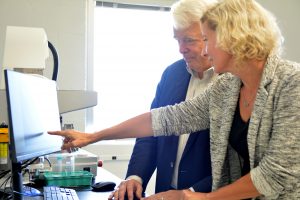 Southern Research acquired its EnvisionTEC 3-D Bioplotter in June, thanks to a generous gift from Birmingham businessman Gene Robinson, who has become a champion of the game-changing potential of 3-D printing technologies. In further support of Alabama business, Southern Research purchased the Bioplotter from SWIGRO, an Auburn, Alabama-based company that is focused on additive manufacturing.
Robinson's $100,000 donation was paired with $50,000 in federal grant funding to complete the purchase of the device capable of printing three-dimensional structures with biomaterials. Only a small number of the specialized devices are in use across the Southeast.
"Without Gene, none of this would have happened," Kelpke said. "His vision will help advance drug discovery and development at Southern Research as we work to uncover new insights against a whole range of diseases and new therapies to combat them."
OPENING NEW DOORS
Rebecca Boohaker, Ph.D., assistant fellow in Southern Research's Oncology Department, said plans are already under way to integrate the 3-D Bioplotter into a sweeping range of future drug discovery research projects.
"We're developing a skin model to test topical-based drugs that would protect against harmful agents that can be absorbed through the skin," she said. "We can develop a 3-D lung model for cystic fibrosis for compound testing. That is aside from what I was initially interested in – tumor models. We can also develop 3-D models in Parkinson's, Alzheimer's and other diseases."
During a recent visit to Southern Research, Robinson got an opportunity to see the 3-D Bioplotter in action, as the device meticulously built the structure of a miniature human brain, layer upon layer, in a demonstration.
Robinson, who has invested in an additive manufacturing company in Auburn, wants his gift to Southern Research to inspire other Alabama business leaders to make donations to spread the adoption of 3-D printing technology across the state. He's also eager to see Alabama solidify its position as an emerging hub for the development of additive technologies.
"The business leaders of Alabama need to get behind this. We're No. 1 in football, but that only goes so far. I want us to be No. 1 in additive manufacturing," Robinson said.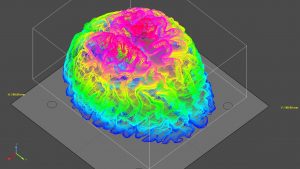 Robinson, who founded the medical device company IMS in Birmingham, said he was interested in helping Southern Research acquire the 3-D Bioplotter because the device can make an impact.
"Since I sold my company in 2014, I have just been looking for something significant to do, something that can make a difference. You know, people donate to all kinds of causes, but what will make a difference? That's what I asked myself. Then I called Stacey," he said.
SPEEDING DEVELOPMENT
Thanks to its potential to industrialize the production of 3-D human tissues, Kelpke said bioprinting technology can help researchers address problems that have slowed drug development. The National Institutes of Health (NIH) says current methods of delivering new drugs can take decades, cost billions of dollars, and fail about 95 percent of the time.
Today, for example, researchers use 2-D cell models for testing potential drugs for activity against certain diseases, Kelpke said. But the cell-to-cell interaction can be quite different when the compound is tested in animal models. There are also issues with testing results derived from animal studies, which can be misleading or disappointing.
As a result, most drug candidates fail in clinical trials because they are shown to be unexpectedly ineffective or toxic, despite encouraging results in early testing.
To accelerate the technology's development, the NIH's National Center for Advancing Translational Sciences has established a bioprinting project so its scientists can develop 3-D laboratory-grown human tissue models that can be produced efficiently and at scale.
At Southern Research, Kelpke and Boohaker are assessing the full potential of the 3-D Bioplotter for the Birmingham-based organization's Drug Discovery team.
The potential seems unlimited. In addition to realistic tumor models, Kelpke said the device could be used to print cartilage for joint replacements. It also has potential in unlocking the mystery of how to get medicines for Alzheimer's past a barrier that blocks the path to the brain.
"For us, it's really just imagine how you can use it, and you can build a 3-D structure and validate it," Boohaker said.
Robinson wants his gift to Southern Research to spark a movement to make Alabama a leader in this transformational technology.
"I just hope that business leaders across Alabama will take a moment and start investigating additive manufacturing technologies and seeing how they can embrace it for their companies, how they can invest in additive companies, or how they can embrace it for the state of Alabama," he said. "We don't want to lose this opportunity."
Are you interested in joining Gene Robinson as a catalyst for discoveries that will change the world? Click here to donate.