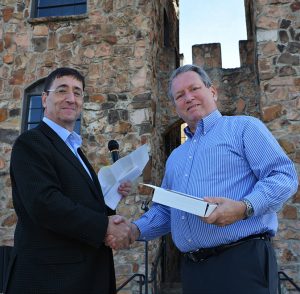 BIRMINGHAM, Ala. – November 20, 2015 – Today, Southern Research celebrated its employee Excellence Awards program with an organization-wide event to acknowledge the winners. Individuals and groups at Southern Research's Alabama, North Carolina, and Maryland facilities were awarded for going above and beyond their standard roles and responsibilities to deliver exceptional customer service, project results, and teamwork. The work of these winners impacts HIV/AIDS research, emerging infections, new fuels, hypersonic materials, and safety for Southern Research employees and the population as a whole. The Presidential Award recognized the accomplishments of a four-decade employee who has made critical contributions to manned space flight.
"This year and moving into 2016, we are bringing a renewed energy to our corporate culture with a renewal of our core values, and intentional appreciation of employee achievements, such as the Excellence Awards and Intellectual Property Awards," said Southern Research President and CEO Art Tipton, Ph.D. "Our employees are working to make the world better in a wide range of areas. I am thrilled to be celebrating these employee-nominated awards today, and at this time of year."
Winners and their accomplishments:
August Meng, advanced chemical engineer, Energy & Environment, North Carolina, submitted new concept papers and proposals that led to new Energy & Environment programs.
Zora Govedarica, engineering chemist, Energy & Environment, North Carolina, exceeded her normal duties to assure enhanced safety and ISO compliance, including chemical inventory enhancement that will lead to a reduction in chemical waste.
Bini Mathew, research chemist, Drug Discovery, performed extraordinarily on a National Institute of Allergy and Infectious Diseases database project where chemical structures needed to be entered; the project was done ahead of schedule and on budget.
LaVinia Ray, pathology supervisor, Drug Development, demonstrated technical excellence, customer focus, and exceptional resourcefulness in aiding in the completion of the largest commercial project in Drug Development and one focused on emerging pathogens.
Charles Hebert, senior program manager, Drug Development, displayed outstanding customer service, revenue, science, staff, and safety focus in managing one of Drug Development's largest government programs, a program focused on the potential impact of early life exposure to certain chemicals and to determine their impact to developmental and reproductive systems. He was also recognized for mentoring young scientists, and chairing important committees for multiple years.
Michael Moser, engineering project leader, and Ben Carmichael, mechanical engineer, Engineering, both led efforts at White Sands Hypervelocity with high speed testing of composites; valuable data was generated that will help long-term technical and business growth in the Engineering division.
Margaret Wiginton, advanced controlled document specialist, Quality, developed innovative and collaborative tools to aid the Quality team in enhancing Southern Research's drug development efforts for commercial and government customers.
The Frederick, Maryland, Drug Development Team exceeded their responsibilities in order to maintain safety, compliance, business focus, and a spirit of camaraderie.
Birmingham technical divisions, the Facilities department, the Environmental Health & Safety department, and the Security Team combined strengths to work through two facility electrical outages around the clock to assure safety, compliance, and a return to standard operations quickly.
John Koenig, senior engineering fellow, Engineering, received the Presidential Award. Koenig has dedicated his career to driving technical excellence, while maintaining strong client relationships, revenue, and processes to assure future growth. His work with NASA also led to a Silver Snoopy Award, the astronauts' personal award.
About Southern Research
Southern Research is a not-for-profit 501(c)(3) organization with more than 400 scientists and engineers working across four divisions: drug discovery, drug development, engineering, and energy and environment. We work on behalf of the National Cancer Institute, National Institutes of Health, the U.S. Department of Defense, the U.S. Department of Energy, NASA, major aerospace firms, utility companies, and other private and government organizations as we solve the world's hardest problems. Southern Research, founded in 1941, is headquartered in Birmingham with additional laboratories and offices in Wilsonville and Huntsville, Frederick, Maryland, Durham, North Carolina, Cartersville, Georgia, and Houston. Visit southernresearch.org for more information.
Media Contact:
Rossi M. Carlson
205-581-2266