FREDERICK, Maryland – Southern Research marked the completion of a $13 million renovation project at its Frederick Infectious Disease Research Center with a ribbon-cutting ceremony today attended by local leaders, state officials and research sponsors.
The project, launched after the 48,000-square-foot facility sustained damage during a torrential rain storm that struck Frederick three years ago, adds flexibility to the center's operations and prepares it for future growth.
"Southern Research's facility in Frederick has played an important role in advances in treatment of infectious diseases over nearly three decades, and this additional investment underscores our commitment to the groundbreaking infectious disease research being conducted here," said Art Tipton, Ph.D, the Birmingham-based organization's CEO and president.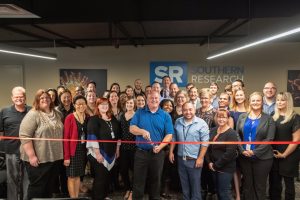 "I want to acknowledge the dedication of all of our Frederick employees during this rebuild in continued commitment to carry out important research for our customers," he added. "The rebuild would not have been possible without the hard work of many SR employees on our facilities team both in Frederick and Birmingham."
Infectious disease researchers at the Frederick center primarily focus on antiviral work and carry out activities such as drug and vaccine discovery and development for commercial and government clients. The center has 50 employees.
"We've helped pharmaceutical companies get many of their drug candidates into the clinic for trials, and the vast majority of FDA-approved antiretroviral drugs for HIV were tested in this facility," said Roger Ptak, senior director of Infectious Disease Research for Southern Research in Frederick.
"We've also done a lot of significant work in developing animal models for dengue and Zika for potential vaccines against those viruses," he added. "We have conducted pre-clinical testing on many vaccine and drug candidates here and provided support for lots of programs."
ANTIVIRAL SCREENING
The Frederick facility, which opened in 1991, was soon handling Southern Research's large-scale anti-HIV/AIDS screening efforts, and it made significant contributions to treatments against the disease. Today, there are more than two dozen FDA-approved AIDS antiretroviral drugs, often used in therapeutic combinations, and Southern Research was heavily involved in helping many of them get to market.
While the infectious disease research in the early days in Frederick focused on anti-HIV efforts, the center's antiviral screening capabilities rapidly expanded to include many other viruses. These have included influenza (including the H5N1 avian flu), hepatitis B and C, dengue, anthrax, poliovirus, SARS, and Zika.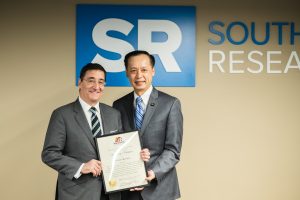 Southern Research scientists in Frederick have also developed primate models to evaluate vaccines against AIDS and anthrax, as well as other models for influenza and infections caused by monkeypox, a virus similar to smallpox.
The Maryland lab also conducts a high volume of antiviral screens against a variety of viruses for pharmaceutical companies, biotech firms, small labs, academic groups, and startups.
Rick Weldon, the president and CEO of the Frederick County Chamber of Commerce who has served in a variety of community roles, said the Southern Research lab and its employees have long been valued partners in the region.
"As the head of local United Way several years ago, I saw the passion of charity and generosity of Southern Research workers, from leadership to the lab bench to the administrative employees," Weldon said. "Now as the Chamber CEO, I'm both grateful for the significant investment and excited to see what breakthroughs emerge from the work of the Frederick-based Southern Research team."
STORM DAMAGE
The intense storm that pounded Frederick County on Sept. 29, 2015, dumped 5 inches of rain on the city, causing major flooding that affected local schools and wrecked the YMCA building.
Southern Research's Frederick facility was hit hard by what was described at the time as a "100-year storm."
Ptak said the heavy rains caused part of the roof in the rear of the structure to collapse. As part of the repair project, the back corner of the building was demolished and completely rebuilt.
"The rebuild allowed us to reconfigure and optimize the space, and we now have space to grow," he said.
Birmingham-based HOAR Construction handled the construction project.
---
Stay up-to-date with SR's research, discoveries, upcoming events and more: sign up for our monthly newsletter.