Southern Research engineer John Koenig was awarded the distinguished Thermal Conductivity Award by the governing board of the International Thermal Conductivity Conference (ITCC).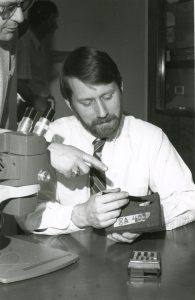 This award, established in 1970, honors outstanding researchers, educators, and industrialists who have contributed significantly to the field of thermophysics. The traveling award is engraved with the roster of past recipients' names including giants in this discipline.
The nomination process is conducted by a committee of the board, and then selection is made upon due deliberation of the entire board. The awardee is nominated based on a variety of achievements that could include a singular key development such as a key theory or measurement method, a significant long-term involvement in thermal science or engineering activities, or the growth of the ITCC.
Koenig's selection for the award was based on this process, taking into consideration his longstanding technical achievements, his organization of the 29th ITCC in Birmingham in 2007, and his service during two terms as chairman of the ITCC governing board.
Additionally, he has directed meaningful measurements in the field of thermophysical properties of materials, and his work has involved numerous government contracts with a high level of difficulty.
"I am honored to be selected by my peers to join this corps of notable men and women who have contributed so greatly to the thermal conductivity discipline," Koenig said. "The ITCC and this award bring deserved recognition to a field that is integral to the defense and aerospace industries."
Koenig's career spanned 39 years at Southern Research, where he concentrated on materials research and development and led teams of engineers as director of materials research. He is currently a consultant to the Birmingham-based research organization, investigating methods to develop and test new advanced materials with multiple space applications.
"John's career contributions to the thermal conductivity field have placed Southern Research on the map as a national leader in hypersonics, thermal properties characterization and evaluation of high-temperature materials for leading contractors like NASA and the Department of Defense," said Mike Johns, vice president of Engineering at Southern Research.
"He continues to play a critical role in this industry and in guiding our Engineering team toward success."
Last year, NASA honored Koenig for significant contributions to the nation's space program.