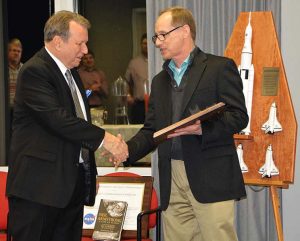 BIRMINGHAM, Ala. – Leaders from the nation's space flight community gathered in Birmingham to honor Southern Research engineer John Koenig, whose work with NASA enhanced the safety of space missions and inspired many in the aerospace industry.
Koenig's career was the focus of a ceremony on Wednesday, January 20, marking his retirement from Southern Research, where he concentrated on materials research and development for 39 years. He remains a consultant to the Birmingham-based research organization, investigating methods to develop and test new advanced materials with multiple space applications.
Koenig was a long-time collaborator with NASA, which recognized him for numerous technical achievements over the years. He also served on high-level NASA investigation boards that explored the causes of accidents, including the 2003 Columbia shuttle incident, and formulated solutions and strategies to prevent future problems.
In 2006, Koenig received a Silver Snoopy Award, an award given by NASA astronauts for contributions that improve the success and safety of space flight. The award was tied to that year's launch of STS-121, a shuttle mission that tested new safety technologies adopted after the Columbia accident.
"John Koenig is a national asset," Dr. Raymond "Corky" Clinton Jr., Deputy Director of the Science and Technology Office at NASA's Marshall Space Flight Center, said at the Wednesday night ceremony.
Clinton praised Koenig's work with Marshall on research and development initiatives, space flight component development, and critical analysis efforts. At the event, Koenig was presented with the Director's Commendation Certificate from NASA for his expertise in high temperature materials.
Others who presented special recognition awards at the event included Kevin Rivers, Deputy Director of the Research Directorate at NASA's Langley Research Center, and Tim Lawrence, System Manager of the SLS booster motor program for NASA's Marshall Space Flight Center. Both Rivers and Lawrence worked closely with Koenig on manned spaceflight critical programs and both credited him as being a mentor to their own careers as well as to the community.
Also presenting Koenig a special recognition award was a team from Orbital ATK in Promontory, Utah, where he was instrumental in materials development for improved safety and cost reduction on the Space Shuttle's solid rocket boosters.
"I am proud to have worked alongside such an innovator and leader in materials engineering as John," said Michael Johns, Vice President of Engineering at Southern Research. "For nearly four decades he has successfully built and sustained a dynamic technical group that has consistently solved our sponsors' hardest problems."
Koenig joined Southern Research in 1973, after retiring from the Air Force as captain. In 1980, after a brief return to the Air Force research labs, he began his decades-long journey with Southern Research as director of the materials research team, which became one of the most consistent and innovative groups in Southern Research Engineering over the last 35 years.
Koenig has received several prestigious awards and recognitions during his career, including being named a semi-finalist for the Air Force's Charles J. Cleary Scientific Achievement Award for outstanding research contributions. He has authored many technical papers and presentations, organized sessions at national and international events, and chaired international committees and working groups.
Art Tipton, president and CEO of Southern Research, said Koenig's technical accomplishments exemplify the mission of the Birmingham research organization, which has a long history of advances in drug discovery and development, engineering, and energy and the environment.
"The lifeblood of Southern Research has always been innovative leaders like John, who work collaboratively to solve problems others think are intractable," Tipton said. "It's particularly impressive to me that so many important members of the space flight community took part in the celebration and still consider John their mentor. I'm thrilled that John will continue to be a resource for our teams at Southern Research as we continue to support space missions."
About Southern Research
Southern Research is a not-for-profit 501(c)(3) organization with more than 400 scientists and engineers working across four divisions: drug discovery, drug development, engineering, and energy and environment. We work on behalf of the National Cancer Institute, National Institutes of Health, the U.S. Department of Defense, the U.S. Department of Energy, NASA, major aerospace firms, utility companies, and other private and government organizations as we solve the world's hardest problems. SR, founded in 1941, is headquartered in Birmingham with additional laboratories and offices in Wilsonville and Huntsville, Frederick, Maryland, Durham, North Carolina, Cartersville, Georgia, and Houston.