Southern Research honored winners of its 2018 Employee Excellence Awards in a program last week.
The winners include 24 individuals and five teams across technical and administrative staff and represent Southern Research's diverse divisions and departments. All have shown a deep commitment to Southern Research's mission, its sponsors, and their colleagues.
Their accomplishments supported Southern Research in a wide range of efforts during 2018, from advancing science and technology to making the organization a safer, more efficient, and more productive workplace.
This year, President and CEO Art Tipton, Ph.D., recognized Judy Britt for her contributions and dedication to Southern Research with The President's Award.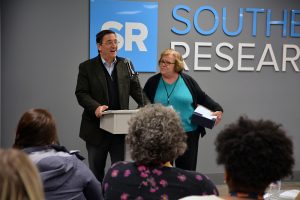 Britt currently serves as contracts manager, where her deep experience with both government and commercial proposals and contracts has been invaluable to SR teams. In this role, she manages some of SR's largest and most complicated agreements. She freely shares her wealth of knowledge with her colleagues, and she is never too busy to answer a question. The impact of this institutional knowledge is felt across the organization.
"Over a 30-year career at Southern Research, Judy Britt has set a shining example of customer service and dedication," Tipton said. "Most notably, Judy's work and dedication to Southern Research's contracts efforts has furthered the organizational mission to solve the world's hardest problems, particularly in the areas of space flight, national defense, energy, the environment, and new therapeutics to treat various diseases."
As part of her award, Britt was presented with the Thomas Wesley Martin Medal. A limited number of these coins were made in 1961 as a gift to the board of trustees to show appreciation for a select number of scientists who have made phenomenal achievements in their respective fields.
Receiving Excellence Awards for their work in 2018 were:
Jamie Bell: In his new leadership role within the Drug Development in vivo group, Bell has gone above and beyond to improve the management of the animal husbandry department and train new staff members, resulting in a vast improvement of the facilities and processes.
Donghui Bao, Ph.D.: In just four years, Bao has exponentially grown the capabilities and services of the bioanalytical laboratory within Drug Discovery's Chemistry Department, providing the drug discovery program with the vital data necessary to support its extensive number of research programs for diseases such as diabetes, Parkinson's, multiple myeloma, and more.
Tommy Brooks: As SR's dedicated staff electrician, Brooks manages crucial, multifaceted electrical systems and projects for all SR facilities. He was recognized for his outstanding customer service, relentless dedication, and on-time completion of projects.
Pam Burn: Burn was recognized for her devotion to encouraging cooperation with the environmental health and safety principles across all of SR. She works diligently to provide an effective communication path and safe work environment for all employees.
Jennifer Carl: Carl has been incredibly responsive and proactive in helping facilitate transactions between the Drug Development business development team and the contracts team. Her broad, specialized knowledge of the business combined with her professionalism has helped expedite a routinely lengthy and complicated process.
Steve Clark: In just two years, Clark has managed to greatly improve efficiency in contracts processes and procedures for the mechanics research component of SR Engineering. By engaging team members to better understand SR's key customers, contract requirements, and the overall business, he has taken customer relations to a higher level.
Seth Cohen: As an engineer on Engineering's system development team, Cohen has developed, proposed, and received multiple project funding. In just one year, his innovative applications of chaos theory to practical problems have earned him five awards for novel technology development.
Ron Dainton: Dainton directed the demolition and redesign efforts for a major renovation project at SR's Frederick, Maryland, infectious disease research facility. His oversight of day-to-day construction activities helped ensure all facility research endeavors continued with minimal disruption.
Steve Gallagher: Within his role on the IT support team, Gallagher has exemplified SR's core values in his daily interactions with all SR staff. He has consistently demonstrated respectful, open communication and dedicated support across all teams, departments and cultures.
Lynae Hanks, Ph.D.: As the lead for Drug Discovery's proposal writing efforts, Hanks has played an integral role in helping elevate the quality and volume of the division's proposals. Her contributions and dedication to the process have contributed significantly to the division's ability to achieve its short- and long-term goals.
Keith Hendershot: As a team member in SR's Environmental Analytical Lab, Hendershot operates large scale pilot units and water treatment systems for some of SR's biggest clients. His dedication and knowledge have ensured projects run seamlessly and that customers are continually satisfied.
Ame Johnsey: Johnsey was recognized for her exemplary service and support of the entire organization through her management of the CEO's schedule and facilitating events, activities and notable visitors. She goes above and beyond in her role with a positive attitude and dedication.
Shelby Massey: As a team member in Engineering's hypersonic structures group, Massey has adapted to accommodate large volumes of challenging work while at the same time encouraging and supporting team members across the division. Her dedication to excellence has helped boost the success of the hypersonic structures team's efforts.
Synthia Mayfield: Mayfield was recognized for her significant contributions to Drug Development's pathology group, particularly in providing support to the team during times of increased workloads and challenging circumstances. Alongside her main role, she took on additional responsibilities and developed new skills to help manage scheduling and resources for the team.
Matthew Merrell, Ph.D.: As a senior scientist and study director in Drug Development, Merrell manages complex studies for a range of customers. This year, he handled two particularly challenging studies and managed to exceed customer expectations and deliver on time results.
Lutfiya Miller, Ph.D.: In 2018, Miller spearheaded an effort within Drug Development's toxicology program to develop neurobehavioral assessment capabilities. Her contributions have increased revenue for the program and will lead to more opportunities for the toxicology team to serve one of its largest and oldest clients, the National Toxicology Program.
Bhavesh Patel: Patel was recognized for his technical skills as a vital member of Engineering's materials characterization group and his success in winning and performing work in the commercial space sector. He has also played an instrumental role in the restructuring of Engineering's thermal lab to improve efficiency.
Lillie Ryans: Ryans has demonstrated a commitment to her craft through diligence, intelligence, and a thorough understanding of the complex contracting world that exists for SR and its customers. Day in and day out she leads by example and helps technical groups achieve success through the critical role she plays for the organization.
Jadid Samad, Ph.D.: In addition to his team oriented approach and dedication, Samad was recognized for the key role he has played in bringing in significant, new DOE research contracts for E&E's sustainable chemistry and catalysis group. He has also filed three patents for new technologies, and one was issued within just one year.
Denora Shanks: Shanks, a team member in accounts payable, has demonstrated excellence in her interactions with and support of Engineering's mechanics group, especially in regard to that group's high-volume workload. Her role requires her to interact with both internal and external clients, and she has gone out of her way to display professionalism and to share her knowledge.
Krupa Subramanian: A biologist in Drug Development, Subramanian has conducted innovative work in the HIV research space by developing a modified quantitative viral outgrowth assay (QVOA) that is superior to the gold-standard method for HIV reservoir quantification. The new assay is being well received by government clients including DAIDS-NIAID of NIH.
Samuel Tanner: Tanner, a chemist in Drug Discovery, has excelled in his new role as manager of the group's compound collection by increasing efficiency of the delivery of chemical samples and by revamping the collection's commercial inventory. He has helped fix software issues to help improve accuracy and reduce costs.
Megan Tidwell: Tidwell was recognized for her proactive and results-oriented approach to trouble-shooting accounting issues, particularly in support of the contracts group. She recently stepped into a new role and has drastically improved contracts processes thanks to her creative solutions and positive approach to challenges.
Gabrielle Williams: In her role as lead security guard, Williams was tasked with creating upgraded ID badges for the high-security Engineering facility. She managed to accomplish the upgrade in record time.
The Drug Development Anatomic Pathology Group: This team is responsible for the execution of the necropsy and histology work in Drug Development. This year, they have collaborated to improve procedures, cut costs, and upgrade work standards and quality. Additionally, they have established a successful mentoring and training program to help all team members succeed.
The Engineering Asbestos Program Team: Team members Tony Sanford and Richard Cooley were tasked with a particularly challenging project – characterizing hazardous asbestos containing material. They met the challenge, working long hours in a demanding environment to complete the testing needed.
The Engineering Machine Shop Modernization Team: Kenneth Nicholson and Joshua Washburn were instrumental in helping the shop upgrade its equipment and capabilities in a short amount of time. Their technical knowledge, passion, and interpersonal skills led to a complex upgrade of the entirety of the shop's tools and equipment.
The Dapivirine Study Group: These Drug Development team members were recognized for their exceptional team work and commitment to excellence for a study on the HIV prevention drug Dapivirine. Their collaborative design of a communication strategy, consistently outstanding work performance, and technical innovation were all keys to formulating a study design, generating extensive data, and interpreting the data within a tight timeline. Their successful delivery of study outcomes exceeded the customer's expectations, which turned into additional business from this customer. Team members include Zhaohui Cai, Jiayi Wei, Christy Raney, Hayley Madeira, Junzhong Peng, Carol Lackman-Smith, Beth Snyder, and Amy Sands.
The Proposal Process Team: Debbie Dille, Steve Clark, and Christopher Tanner worked as a team to improve the process of managing large proposals, which has increased efficiency across the board. The team implemented a new system that is more precise and flexible, allowing for better communication between technical and business personnel in order to increase response time.