In the nation's 99th year of officially commemorating U.S. veterans, Southern Research employees pay tribute to the sacrifices made by brave military men and women to secure and preserve freedom.
Over the past 70 years, the Birmingham-based research organization has supported national defense and protected warfighters serving around the globe through work in materials research and systems engineering. Research for the Department of Defense has been a key component of Southern Research's engineering work, according to President and CEO Art Tipton, Ph.D.
Since the late 1950s, when Southern Research began work on the High Temperature Materials Characterization Laboratory, it has assisted the U.S. Department of Defense in all branches of the military. Some of the earliest programs for the DoD involved developing high-temperature reentry materials for missile systems reentering Earth's atmosphere.
Through the decades, the work has included a diverse variety of efforts such as ballistic missile system development, hypersonic vehicle materials and structures analysis, and airborne sensors and stabilized gimbal systems.
"Veterans Day is a special one for Southern Research given the former service members we employ and the highly specialized work we do with the Department of Defense," Tipton said. "Developing programs that protect the warfighter and keep our country safe from harm help make our mission more significant. And with pride and admiration, we celebrate those who served in defense of our great nation."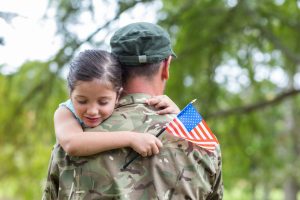 Tipton acknowledged the many service men and women who have given and who presently give their time, talent and efforts toward Southern Research's mission. Southern Research is supported by 25 staff members who are U.S. veterans.
"These individuals make our pursuit even more meaningful," Tipton said.
Two such individuals are Maj. Gen. (Retired) N. Lee S. Price, who serves on Southern Research's board of directors, and Chief Master Sgt. John C. McCullough, export control specialist for Southern Research.
McCullough has served in the Alabama Air National Guard for 32 years, including 24 years with the civil engineers. He was mobilized in support of Operation Noble Eagle, as well as campaigns Southern Watch and Iraqi Freedom.
Price entered the Army as a Private First Class in 1975, when only 2 percent of the Army workforce was female. In 2014, when she retired as major general, only seven women had exceeded her in the Army ranks. During her nearly four decades of service, she supported the nation's operators across the globe in multiple combat zones. She was recently recognized by the Birmingham Business Journal as one of the Veterans of Influence.
"Price's contributions to the Southern Research board are invaluable," Tipton said. "Beyond her specific technical expertise, her combined focus on people and processes have helped us broadly. And her lessons in leadership have benefited me personally."