A statewide program that encourages girls to pursue careers in STEM fields will hold its annual expo at Southern Research this week, highlighting the ingenuity and creativity of students from across Alabama.
Girls Engaged In Math and Science, also known as GEMS, will hold "Ignite the Light in STEM!" Friday at the Birmingham campus. The event will feature female role models from Southern Research: Kathryn Lanier, Ph.D., STEM education outreach director, and Liz Johnson, Ph.D., STEM education specialist.
There's a full slate of STEM-related activities planned for about 65 students, including a project showcase, interactive educational activities, breakout sessions, experiments in the Southern Research STEM lab and a keynote address by Lanier.
Lanier said she's a big supporter of the current push to draw more girls into STEM fields, but she wants to make it clear to students that it's not about promoting their gender.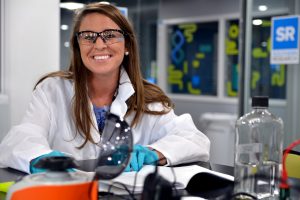 "A lot of times, when girls apply for something competitive and they get it, there's this automatic thought, 'Oh it's because I'm a girl.' And that's not the case here. It's not that we want girls to go into STEM to promote women's rights, it's because these fields need the unique perspective a female can offer.
"It's not just that we want girls in STEM, it's that we need girls in STEM," she added.
CLOSING THE GAP
Offered by the Alabama Department of Education, GEMS supports the national need to close the STEM gender gap, using teaching strategies to encourage girls' self-confidence and elevate interest in the areas of science, technology, engineering and math.
Participating schools include those in Anniston, Chilton County, Cullman County, Florence, Hoover, Montgomery and Shelby County.
This is the 11th year for the annual GEMS expo, which has been previously held at Birmingham's McWane Science Center. This year's event for the younger girls is still being held at McWane, but the older girls will be at Southern Research.
"The whole Martin Library will be full of Alabama teen and tween girls, showing off projects they have been working on all year," Lanier said.
Project cover a wide range of topics, such as electric circuits, laws of motion and the makeup of human blood types.
Hands-on projects facilitated by Southern Research that day will include the making of Harry Potter wands. The students will learn about circuits, using a wooden dowel, LED light, battery, copper tape and binder clip.
In other projects, students will build their own wind turbines using 3D printing technology and study ocean acidification using cabbage juice as a universal indicator.
"We are excited and honored to partner with GEMS and support the important mission of closing the gender gap in STEM fields," said Art Tipton, Ph.D., Southern Research President and CEO. "This aligns perfectly with our own goal of building the pipeline of future researchers and scientists who will tackle the world's hardest problems for generations to come."
STEM OUTREACH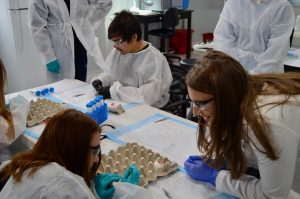 Lanier said she believes the continued efforts toward girls in STEM will have a lasting effect.
"I am the ultimate STEMinist," she said. "For my generation, being a woman in STEM means you don't look like everybody else. I don't fit in with the average STEM person. But I believe our little girls will someday."
Lanier joined Southern Research in 2017 and has been actively increasing the organization's STEM outreach efforts across Alabama.
Two or three schools visit the Birmingham campus each week on field trips, getting hands-on experience in the Southern Research STEM lab.
In addition, the application period for SIPSE opened last week. This is a professional development program for high school teachers and provides paid summer internships for 9th through 12th grade educators.
SIPSE is expanding this year, from six participants in Birmingham last summer to 12 or 13 in Birmingham this summer, along with one to be placed at The University of Alabama in Tuscaloosa.
Meanwhile, high school students can apply to participate in the Drone Academy Program, a free weeklong summer camp where they will be able to 3D print their own drone.