High school students from across the state and beyond have reached new heights in engineering and innovation this summer at Southern Research.
The organization's first Drone Academy drew 124 students, split up into four one-week sessions. They represented more than 40 schools, mostly in Alabama, but also in Georgia, North Carolina, and California.
Each week, the students designed and produced fully functioning drones using 3D printers in the new STEM lab at the Birmingham campus. Then they took a field trip to an airport in Walker County to try out their creations.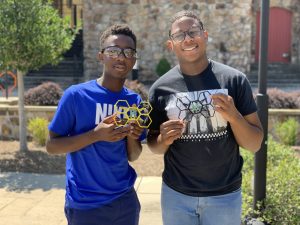 "This academy has allowed students to dive into the engineering design process," said Kathryn Lanier, Ph.D., Southern Research's STEM Education Outreach Director. "And not only do they get to design and print their own drone, they also get to take it home with them.
"They're so proud by the end of the week, and I'm even more proud of what they have accomplished."
Kamari Marzette, a 10th grade student at Ramsay High School in Birmingham, said she found the experience inspiring.
"What I learned this summer gave me the confidence to achieve things I never thought I was capable of," Marzette said. "It was also really cool that the Academy was led by mostly women — it helps me believe that I can make my STEM dreams become a reality, too."
'NOVEL IDEA'
The idea to implement the Drone Academy program came about during the planning phase of the STEM lab, which opened last summer.
 Outfitted with equipment and supplies to conduct both physical and life science experiments, the facility has been the site of many camps and other programs that are part of a Southern Research goal to attract more students to STEM careers.
"When seeking funding we discovered that the Drone Academy program is one of a kind," Lanier said. "While there are several drone programs offered around the country, there are no known programs that incorporate drone design and engineering using computer-aided design (CAD) software and 3D printing, especially in the state of Alabama."
"The Drone Academy has been extremely successful in sparking students' interest in STEM careers, and we are most grateful to the American Honda Foundation, Motorola Solutions Foundation, and Best Buy Foundation for providing almost $50,000 in funding to make this program possible," Lanier added.
Additionally, Sanders Aviation partnered with Southern Research to provide visits to the flight training center at the Walker County Airport, where the students raced their drones and also learned about pilot's license programs offered there.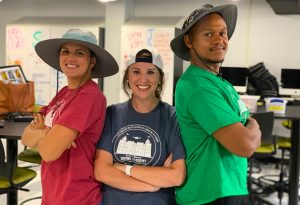 OVERCOMING CHALLENGES
Lanier and her team faced many challenges while building the program from the ground up, including mastering 3D printing and dividing the use of eight 3D printers among approximately 30 students each week, since each drone takes about four hours to print.
"There's not a guide for this type of program out there, but now I think it's one of the best programs we offer. People from other states are calling and asking about it."
The Southern Research team also designed backup drones before the camps started, so the students would have something to take home if they struggled with their own projects.
"But by the middle of the first week, the students' drone designs were better than our backups. They didn't need the backup drones at all," Lanier said.
GROWTH PLANS
Lanier said it's exciting to see the organization's STEM Education Outreach programs continue to grow.
Next year, she would like to add more 3D printers to the Drone Academy, as well as a new technology that would eliminate the need to provide a remote control for each student's drone.
Chris Crawford, Ph.D., a University of Alabama computer science professor, has been involved in brain-controlled drone racing. It involves connecting electroencephalogram, or EEG, devices to drones and headsets, so people can race each other with their brains instead of controllers.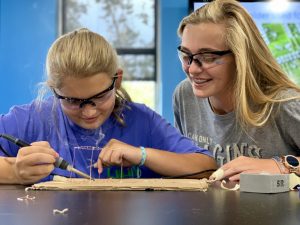 Crawford was a speaker during one of the Drone Academy sessions this summer, and Lanier hopes to collaborate with him again next year.
"Basically, you have to think about something really complex to get those beta brainwaves firing, and the harder you think, the more it will lift," Lanier said. "One of the most expensive parts of this program is the remote controls, so maybe next year they could fly drones with the EEG headset instead of standard drone remotes."
For now, though, Lanier is proud of the progress of the first class of Drone Academy graduates. Most of those who attended this summer had never used CAD software or 3D-printed anything.
"Some of their drones are Star Wars themed, some look like UFOs, some put on chicken feet as landing gear. Their designs are so creative and so much better than anything I could have ever made. They've really blown me away," she said.
"It's a rewarding experience for us to see them and for them to see themselves solving problems."