High school and middle school girls from communities around Alabama visited Southern Research on Friday and left inspired about their future studies and possible careers in STEM fields.
The Birmingham campus hosted Girls Engaged in Math and Science, or GEMS, and its 2019 Project Showcase, "Ignite the Light in STEM!"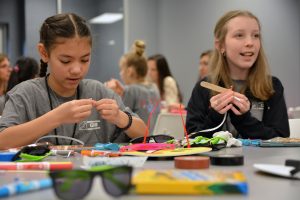 Students showed off their projects that demonstrated STEM knowledge and skills. They also participated in interactive educational activities and experiments in the Southern Research STEM lab facilitated by Kathryn Lanier, Ph.D., STEM education outreach director, and Liz Johnson, Ph.D., STEM education specialist.
GEMS Coordinator Hailey Ridgeway said Lanier and Johnson are great female role models, one of the strategies the group uses to encourage girls in STEM.
"We hope the main impression they leave with is they can do anything they can put their mind to and they won't be intimidated by math and science," she said.
The students' project expo covered a wide range of topics, including human blood types, the laws of motion and linear equations and slopes.
'GIRL ON FIRE'
One project, called "Girl On Fire," turned common electric circuits into modern fashion. Students from Chilton County High School adorned two prom dresses with LED lights that responded to motion and noise.
"I love to be creative, and I love designing things," said Grace Tuell, a 17-year-old Chilton County High School student. "Having this project to work on for these last few months has been really fun and exciting."
Tuell, who wants to be an electrical or mechanical engineer, plans to attend Jefferson State Community College and then transfer to Auburn University. The GEMS event offers an outlet for her and her peers to explore their interest in engineering and science, she said.
Jay LeCroy, STEM director for Chilton County Schools and a teacher at the system's STEM Academy, said the dress project involved programming, soldering circuit boards and making circuits.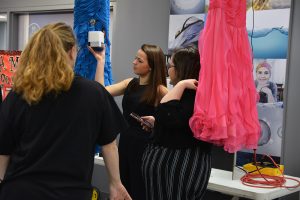 Those tasks have previously been identified by Southern Research as necessary for today's high school students entering STEM studies, said LeCroy, a former fellow in SIPSE, Southern Research's professional development program for high school educators.
In fact, Southern Research helped design the Chilton County course that formed the basis for the dress project.
ELEVATING INTEREST
GEMS, which Chilton County has participated in for 11 years, helps his students dive deeper into their STEM studies, LeCroy said. Over the years, his students' GEMS projects have covered topics such as underwater robotics, hydrogen fuel cells, solar cells and physics of roller coasters.
Visiting Southern Research for this year's event was a special treat for students, he added.
"Being in a small, country county, they don't have a chance to network often with scientists and researchers, and coming here gives them the opportunity to do that," he said.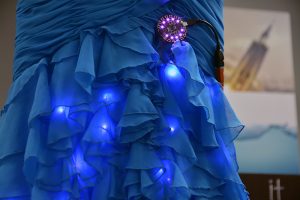 Offered by the Alabama Department of Education, GEMS supports the national need to close the STEM gender gap, using teaching strategies to encourage girls' self-confidence and elevate interest in the areas of science, technology, engineering and math.
Participating schools in Friday's event included those in Anniston, Chilton County, Cullman County, Florence, Hoover, Montgomery and Shelby County.
GEMS has held previous events at The Birmingham Zoo and Dauphin Island. This year, kindergarten through second-grade girls went to McWane Science Center, while sixth- through 12th-graders visited Southern Research.
BUILDING THE FUTURE
Lanier on Friday encouraged the students to pursue their interest in STEM and to not be discouraged by failure.
"The cool thing about being a scientist is failure," she said.
She asked them to imagine themselves working on a complex project for years with experiments that keep failing. But late one night, the experiment finally works, and the feeling that follows is indescribable.
"Not only are you the only person in the world who knows that answer, you're also the first. That's a powerful feeling. You've got to embrace failure, and you've got to be brave," she said.
Lanier told the students they could help build a movement of girls who are brave.
"Each and every one of you need to know that not only can you do this, but we need you to do this. You're the key to building that future."
Anniston Middle School students Adrianna Fitten and Miasia Dennis, who are both eyeing careers in the medical field, said the GEMS event has helped inspire their future plans.
"You are around other girls who are interested in science," Fitten said. "It helps get you out of your comfort zone, and you make friends."