BIRMINGHAM, Alabama – More than 100 students from across Alabama went behind the scenes at Southern Research on Thursday in an event designed to spark their interest in STEM-related careers.
Students from Jefferson, Mobile and Wilcox counties participated in the 5th Annual STEM Day, which has grown from 20 participants at its inception to 103 this week.
The event is part of Southern Research's expanding STEM education efforts, which are helping to build the state's next-generation workforce, said Kathryn Lanier, Ph.D., STEM education outreach director.
"I always say that I have the coolest job in the world, because we really are building a 'STEMpire' from the ground up," she said. "We get to be creative and find new ways to do the right thing, which is educating kids and preparing them for the future."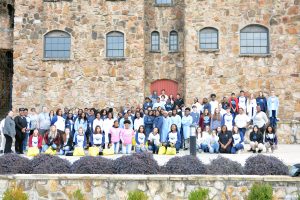 Lanier cited statistics from testing provider ACT that show more than half of Alabama students have an interest in STEM majors or careers. But just 11 percent meet benchmarks for STEM subjects.
"We have a lot of work to do, and there's a big impact we can make," she said.
CAREER PATHWAY
Liz Johnson, Ph.D., who joined Southern Research this fall as STEM education specialist, said STEM Day can help students turn their passion for science into a career.
"It's awesome that we can give these students an opportunity to see what it's like to be a real-life scientist or engineer," she said. "It's one thing to see them on TV or elsewhere in the media, but to actually get in the lab and participate helps open students' eyes to new opportunities."
STEM Day featured multidisciplinary, hands-on experiments across Southern Research's focus areas, including Drug Discovery, Drug Development, Engineering and Energy & Environment.
Participants also had lunch with scientists and members of the Jefferson County Legislative Delegation.
Sonya Scott, who teaches chemistry at Mobile County's Mary G. Montgomery High School, said STEM Day is a valuable experience for students and teachers.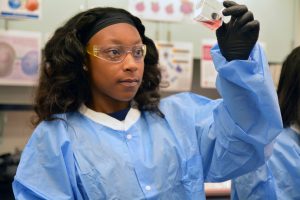 For students, it's an opportunity to see what scientists do every day and learn about the path to their careers.
"They're also seeing how chemistry crosses with biology, and they're using techniques in the lab we haven't done, as well as different instruments we don't have access to," she said.
Scott said she also learned a lot about Southern Research's ground-breaking research and discoveries. And the students' experience in the lab will support her classroom instruction.
"Chemistry can be very abstract in the classroom, especially when we talk about nanoliters and microliters, units that are so tiny. Today, they were able to see that professionals actually use these things, and it's not just something I'm telling them they need to know," she said.
'MAKING CHANGE HAPPEN'
Kelsey Kennedy, an environmental science teacher at Wilcox Central High School, said her students were excited to attend STEM Day and talked about it all week before the trip.
"We come from a low-income county, and this is a great opportunity for our students," she said. "Our school's motto is 'Excellence is the Only Standard,' and this event fits in well with that."
One of those students, junior Makayla Kidd, said she learned a lot from an experiment that separated hydrogen from oxygen and carbon.
Kidd said she previously didn't have an interest in the STEM field, but now she wants to learn more about its careers and majors.
"This is something I really enjoy doing, and I plan on doing a lot more of it," she said.
Art Tipton, Ph.D., Southern Research president and CEO, said the organization is proud to host STEM Day.
"We are thrilled to again host this annual event that seeks to broaden the minds of interested students and help shape the next generation of researchers and scientists," he said. "These real-world experiments serve as inspirational, aspirational and educational ways to promote STEM-related fields to those who will one day lead the charge in making change happen globally."