Southern Research's first TrainSafe class at its new, state-of-the-art biosafety training center in Birmingham attracted eight laboratory professionals for an intensive four-day session on effective protective measures against deadly pathogens.
"I think a class like this could help leadership and safety officers and scientists all learn the mindset that we're all here together and we need to make rules we can live by," said Heather Engelmann of the Pacific Northwest National Laboratory in Richland, Washington.
"Biosafety is the topic, but it's really about behavioral sciences and how to lead well."
Called the Advanced Biological Risk Mitigation Program, the class beginning June 6 taught research and clinical lab workers how to reduce risk to themselves and others in a simulated Biosafety Level 3 (BSL-3) laboratory.
For Keith Mulholland, a molecular biologist at the U.S Department of Homeland Security's BioWatch Program, the most useful parts were hands-on exploration of the personal protective equipment (PPE) and instructor Sean Kaufman's stories.
"I'm definitely going to go through and reread all my protocols, look at everything, and really try to see where these techniques would come in handy," he said. "Also, when I'm working, I'll try to implement them and see how I can better protect myself and my coworkers."
As with any comprehensive class, each student gleaned something different. For Engelmann, the most useful aspect "was how to frame conversations about how to help employees change their behavior," she said.
REDUCING RISKS
Kaufman, a national biosafety expert and behavioral psychologist, led the class. In addition to physical risk prevention techniques, he also taught ways to lessen the risk of a cyber attack and strategies to contain human risk. A second part to the program will teach healthcare first responders like doctors, nurses, and EMS workers protective measures to use when treating a patient with one of these potentially dangerous infectious diseases.
"Many emerging infectious diseases require a new set of skills," Kaufman said. "These bugs often do not have vaccinations, can be transmitted through aerosol, and are things like MERS or SARS that make healthy people sick.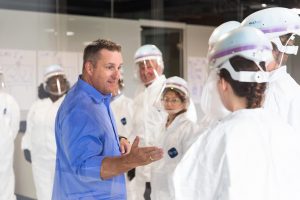 "They could very quickly overburden or overrun our capacity to respond appropriately, even in a very well-developed country," he said.
IMPORTANT MISSION
It's a risk that Kaufman is all too aware of. In 2014, he trained Emory University doctors and nurses in preparation for caring for Ebola-infected patients. No one there was infected, but two nurses in Dallas were sickened just weeks later. "It's clearly apparent that a blending of infection control and biosafety lessons that we've learned in high-risk containment could benefit the healthcare industry as a whole."
Before overseeing the high-risk isolation unit, Kaufman had 10 years of experience in biosafety training. The decision to build the simulation center was made after Kaufman had been working with Southern Research as a consultant.
"Southern Research has a rich history and tradition of leading scientific innovation and of developing culture within science," he said. "This type of training center coincides with that overall mission."
Art Tipton, Ph.D., president and CEO of Birmingham-based Southern Research, said the organization can play an important role in better preparing lab workers, emergency responders and hospital staff against emerging threats.
"We, of course, see this as a strategic opportunity to work with the premier trainer in the region, but also as being key to the Southern Research mission as a chance to enhance the biosafety of our nation and the people who work in this important space," Tipton said.
In addition to the BSL-3 lab, the center also houses an ambulance bay, patient room, and staging areas for students to practice putting on and taking off personal protective equipment (PPE).
Unlike active labs or hospitals, these spaces do not have to be decontaminated or shut down for training. Further, attendees can learn to treat patients with unknown infections without the risk of being infected themselves.
"It's an amazing facility," said Pacific Northwest National Lab's Engelmann. "It's kind of fun to be the first class through."