Southern Research and the National Institute of Clean and Low-Carbon Energy (NICE) are collaborating on a project to transform retired electric vehicle batteries into energy storage systems for offices and factories.
Under the partnership, the Birmingham, Alabama-based research organization will provide critical testing services to assist NICE to develop stationary power systems using very low cost, retired EV battery packs for the U.S. market.
Low-cost stationary storage is a key enabling technology towards sustainable clean energy. To enable the use of retired EV battery packs, NICE has developed new power and controls topology for storage systems in its facility based in Beijing China. The innovative approach will allow for each battery pack to be individually optimized for performance and cycle life.
"Each old EV battery has many different factors that affect the overall performance and life cycle of an energy storage system. No two batteries are alike. NICE's technology solves the problems associated with using old EV batteries; it is a breakthrough," said John Lemmon, Ph.D., director of Distributed Energy at NICE Beijing.
"Southern Research and their partners will play a crucial role to provide third party validation for performance and economic analysis for our energy storage system."
SOLVING PROBLEMS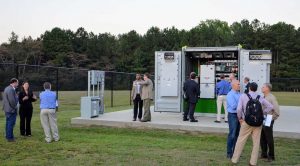 To facilitate the project, Southern Research will make a significant investment to establish a multi-purpose test bed at its downtown Birmingham campus. Its sophisticated equipment will be used to assess the performance of individual battery packs and systems linking multiple batteries.
"Collaborating with a world-class research organization like NICE will expand our capabilities in an area experiencing rapid growth," said Corey Tyree, Ph.D., senior director of Southern Research's Energy & Environment division. "This project also allows us to engage with the automotive manufacturers, an important industry to the state of Alabama and Southeast region."
The overall effort will allow business to save on energy costs while providing a second life for EV batteries that are still functional even though they no longer power an automobile, said Bert Taube, Ph.D., senior principal investigator for Energy Storage in Southern Research's E&E division.
"There is a large potential market for this, and if you can feed that demand with energy storage systems that use retired batteries, it's doubly beneficial," Taube said.
"These batteries could end up going to a landfill and becoming hazardous waste. Instead, they will be repurposed, solve problems in the marketplace and put a product back to good use."
SECOND-HAND BATTERIES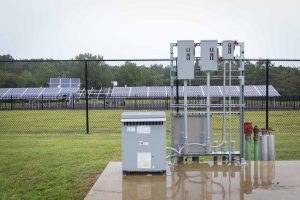 The NICE-Southern Research collaboration comes at a time when a wave of recent EV models are being replaced, raising questions about what to do with their batteries. While they can be disassembled and their components recycled, it makes economic sense for find a new use for these battery packs.
A lithium-ion battery could retain 70 t0 80 percent of its charging capacity after a decade of operation, making it suitable for less demanding chores after being removed from an auto.
Meanwhile, battery demand for EVs is surging, with Bloomberg New Energy Finance predicting a 25-fold global increase by 2030. That means as many as 100,000 second-hand batteries will be available each year for repurposing in the United States alone in coming years, according to one estimate.
As a component in an energy storage system, repurposed EV batteries could store energy collected by solar panels and wind turbines, or routed directly from the electric grid. The system would permit a business owner or factory operator to tap the supply when needed to prevent costly spikes.
RESEARCH PARTNERS
NICE is the research arm of the Beijing-based China Energy Investment Corp., which is a Global Fortune 500 company and leads the world in coal mining, coal-fired power, wind power, and coal-to-chemicals production.
NICE is primarily focused on R&D and innovation in the fields of clean coal conversion, new energy, advanced materials, industrial catalysis, and environmental technologies.
Its U.S. division, NICE America Research Inc., is located in the heart of California's Silicon Valley, and will be responsible for the commercialization of this novel energy storage system in North America markets including residential, commercial and industrial, and grid energy storage.
Southern Research launched its Energy Storage Research Center last year as a platform for exploring, testing and validating technologies that could bring energy storage systems into wide-scale operation.
The investment in the test bed is supported in part through contributions from the Alabama Innovation Fund, an initiative administered by the Alabama Department of Commerce to advance research and job creation in the state.
Under the partnership with NICE, Taube's team will evaluate batteries that powered Nissan Leaf electric vehicles to determine their capacity and power profile, among other characteristics. The team will then work with NICE to combine batteries into systems and test them for suitability in relevant commercial-industrial applications.
Acelerex, a software development firm based in Greater Boston, is a partner in the project.
---
Stay up-to-date with SR's research, discoveries, upcoming events and more: sign up for our monthly newsletter.