Teachers from high schools across Alabama spent the summer working alongside scientists in the labs at Southern Research, and now they're excited to take what they learned back to their classrooms and students.
The Summer Internship Program for STEM Educators, or SIPSE, just wrapped up its second year of offering the participants real-world applications of the subjects they teach.
"It was amazing," said Devon Lusa, an honors chemistry and AP chemistry teacher at The Altamont School in Birmingham. "I feel like I'm going to be a better teacher in so many ways."
Lusa was one of 11 SIPSE fellows who were assigned specific projects and paired with researchers from the Drug Discovery, Drug Development and Energy and Environment divisions at Southern Research. One fellow worked with professors at the University of Alabama, and two more fellows worked with professors at the University of West Alabama.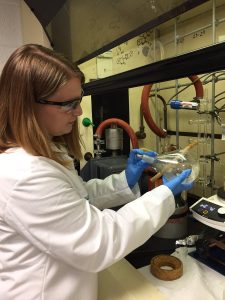 They all spent six weeks learning how scientists and engineers approach problems, design experiments, interpret data, communicate findings and develop and implement workplace solutions.
Lusa's project was focused on creating an opioid replacement for morphine that would still reduce pain without the negative side effects of that drug.
"This was a great opportunity for me to become the expert, so when students ask, 'When am I going to use this in the real world?' I can tell them," she said.
CLASSROOM STRATEGIES
All of the SIPSE fellows devised a strategy to improve how STEM subjects are taught in their classrooms. Lusa plans to introduce a new organic chemistry unit.
Nicole Daly, another SIPSE fellow and an environmental science teacher at Clay-Chalkville High School, designed an experiment to test the robustness of cell viability assays. She plans to relate her experience to her students with a study on bioluminescence, a light produced by a chemical reaction within a living organism.
"I learned so much, I got out of the classroom, I met great scientists and I did something I've never done before," she said.
Other projects involved studying the development and treatments for certain diseases, identifying environmentally friendly production methods for commodity chemicals and studying the microbial community in Black Belt soil to aid improvements in farming practices.
EXPANDING PROGRAM
SIPSE was expanded this year to 14 intern spots, up from six last year. It also moved beyond Birmingham, with the placements at the University of Alabama and the University of West Alabama.
Participants receive a $4,500 stipend, as well as $500 for supplies to implement their strategy in the classroom.
Kathryn Lanier, Ph.D., Southern Research's STEM Education Outreach Director, said her plan is for SIPSE to continue to grow each year, with more fellows and more diverse placements. Adding the universities was the first step; in the future, she hopes to place fellows at companies.
"The goal of SIPSE is to place teachers in authentic scientific internships, to give them that real-world experience and ignite a passion for discovery that they can take back to their students in the classroom," she said.