Forget the beach or the mountains. One of the coolest places to be this Spring Break is the lab at Southern Research.
About 80 Central Alabama students are expected to spend this week at the organization's Southside campus, conducting experiments much like the ones researchers do there every day.
It's Spring Break Camp, part of expanded STEM education efforts aimed at sparking students' interest toward careers in the field.
On Monday, students measured the effect of caffeine on cardiovascular function using chick embryos. In some cases, the work didn't go as planned, as some chicks didn't have heartbeats.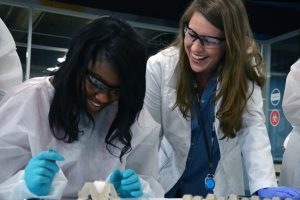 But that was an important lesson for students, said Kathryn Lanier, Ph. D., Southern Research's first STEM Education Outreach Director.
"Science doesn't always work. There's a lot of trial and error, and they are getting real world career exposure here," she said.
For Abel Lopez, a senior at Bibb County High School, the camp is meaningful step toward his planned career as a neurosurgeon and medical researcher, a choice he traces to childhood.
"When I was 4, my dad had a brain tumor, and the doctors at UAB saved his life," he said. "I'm going to be starting UAB in the fall, and I will be the first-generation college student in my family."
Lopez said the camp has exceeded his expectations, because of the hands-on experiments.
"I've toured a couple of other labs, and it was all 'just looking,'" he said. "This is great. I was not aware we had a place like this so close to home."
Some of the students participating in this week's camp are part of Upward Bound, a college preparatory program for students from low-income families and families in which neither parent has a bachelor's degree. Others are part of the Boys & Girls Club and home school groups.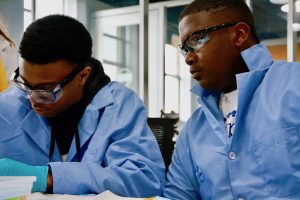 Working with the students are Southern Research scientists, including Michelle Valderas, director of Infectious Disease Preparedness Initiatives, who helped the group with the chick embryo experiment. Her daughter Tori, a sophomore at Vestavia Hills High School, is participating as a volunteer helper all week.
"I hope they learn a little about how to design an experiment and how to look at their results in an objective way," Valderas said. "I hope they also learn how science isn't perfect, how our own biases can taint our experimental results and how we can use math to make sure that doesn't happen."
Delbra Peoples, a sophomore at Montevallo High School, said she has always been interested in STEM, and events like the camp help her make decisions about her future education and career.
"It's cool to see the work they're doing here, and it furthers my knowledge," she said.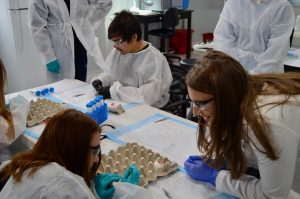 ---
Stay up-to-date with SR's research, discoveries, upcoming events and more: sign up for our monthly newsletter.