Sue Chin Lee, Ph.D., assistant professor of physiology in the College of Medicine at the University of Tennessee Health Science Center (UTHSC) has been awarded the UTHSC/Southern Research (SR) Collaborative Research Network (CORNET) Award in Drug Discovery and Development. Nearly two years since its inception, the CORNET Awards have been the seed of more than $1.4 million in funding to support new collaborative research teams and their groundbreaking drug discovery and development initiatives. For her project, titled "Drug Discovery Targeting Lysophosphatidic Acid (LPA) GPCR Subtype 5 (LPA5)," Lee will receive combined funding from SR and UTHSC for up to two years to further develop her novel research project investigating the role of LPA5 in cancer metastasis and cancer autoimmunity.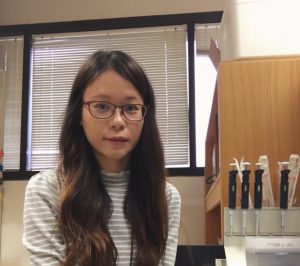 "I would like to thank the Office of Research at UTHSC for their invaluable support and continual effort in promoting new lines of research and collaboration through programs such as the UTHSC/SR CORNET Award in Drug Discovery and Development grant," Lee said. "We believe that together, with the team of experts at SR and their cutting-edge robotic drug screening platform, we will be able to achieve this goal."
Over recent years, Lee and her team have discovered that LPA5 plays a key role in cancer metastasis. Specifically, they found that LPA5 receptor knock-out mice were protected from developing melanoma-derived lung metastasis. Moreover, activation of the LPA5 receptor on CD8 T-lymphocytes suppresses the immunosurveillance activities of CD8 T-lymphocytes against tumor cells. These findings led Lee and her team to believe that developing compounds that target the LPA5 receptor have potential therapeutic utility in cancer, especially in the area of cancer metastasis and anti-tumor immunity.
"Dr. Lee, with SR, is embarking on a high-throughput drug screen to find compounds that can potentially overcome the inhibitory signals cancer cells release to block anti-tumor immunity," said Gabor Tigyi, Ph.D., associate vice chancellor for UTHSC Industry Relations and Global Partnerships. "By partnering with companies, such as Southern Research, Dr. Lee's evolving technology can become a game-changer in the immunotherapy of cancers, which is revolutionizing treatments by utilizing the patient's own immune cells to rid the body of cancer."
"We are very excited about continuing our collaboration with Dr. Lee and UTHSC, as this program fits nicely with our continued interest in oncology research," said Mark J. Suto, Ph.D., vice president of Drug Discovery at Southern Research. "Dr. Lee's program has made significant progress in a short period of time."
The UTHSC/SR CORNET Award in Drug Discovery and Development represents an extension of a program launched in 2016 by Steven R. Goodman, Ph.D., vice chancellor for Research at UTHSC. UTHSC and SR formed their partnership in fall of 2017, linking the drug discovery and development expertise of SR with UTHSC's four-campus research network. Glen E. Palmer, Ph.D., associate professor in the College of Pharmacy at UTHSC was the first recipient of the jointly-funded award for his work on the development of first-in-class broad-spectrum antimicrobial agents for the treatment of what are often fatal invasive fungal infections.
The primary objective of the CORNET Award in Drug Discovery and Development is to launch drug discovery programs that are based on new and unique insight into the biology of disease that will fill significant unmet medical needs. Additionally, this initiative is designed to present a unique opportunity for developing a broad collaborative program in drug discovery that will yield the generation of new intellectual property and patents, and the establishment of new academic-industry partnerships that could lead to the founding of new companies.
---
Stay up-to-date with SR's research, discoveries, upcoming events and more: sign up for our monthly newsletter.