Southern Research employees continue to contribute funds to spark research projects that can lead to major discoveries and funding opportunities.
"I'm constantly inspired by the relentless pursuit of discovery that our employees engage in every day. And on top of that, they believe and care so deeply for the mission of Southern Research the they are willing to support it through contributions to the Employee Give Campaign," said Brynne MacCann, the organization's development officer.
"Already, the campaign has provided seed funding for significant projects that are on their way to delivering real-world results," she added. "The campaign perfectly embodies the spirit and mission of our organization."
Southern Research launched the Employee Give Campaign in June 2016 with the goal of raising $1 million over five years. As of May 2019, nearly $760,000 has been pledged, leaving the Birmingham-based non-profit organization three quarters of the way toward its target.
Funds raised through the Employee Give Campaign provide Southern Research employees the opportunity to pursue novel projects that hold significant promise but may not fit within the organization's traditional funding structure.
The goal is to drive innovation and collaboration from the bottom up to  foster promising research projects that can attract substantial external funding from sources including the National Institutes of Health (NIH) and other longstanding partners.
FOSTERING INNOVATION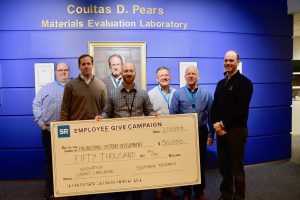 A key element of the Employee Give Campaign is Southern Research's Innovation Grand Challenge, awarded annually by peer review.
So far, six scientific projects have received seed funding under the Innovation Grand Challenge, allowing researchers to access significant support from the NIH, the National Cancer Institute, and the National Institute of Allergy and Infectious Diseases.
Winners of Southern Research's Innovation Grand Challenge for 2018 were:
Seth Cohen, senior electrical engineer on the Engineering Systems Development team. Cohen launched a project to develop advanced real-time signaling processing technologies with broad applications in the consumer, aerospace and defense industries.
Nathan Fisher, Ph.D., associate director of Bacteriology Laboratory, is leading a team targeting the development of a new treatment for sepsis caused by antibiotic-resistant bacteria. The team is focusing on novel anticancer therapeutics developed by Southern Research as an immune booster to combat the bacterial infection.
Susan Schrader, Ph.D., senior scientist in the Infectious Disease Research Laboratory, is working to identify a new therapeutic target that could be key to the discovery and development of new anti-HIV drugs.
Southern Research employees were able to award $150,000 to these projects through the Innovation Grand Challenge.
DRIVING FORCE
The Employee Give Campaign has also generated funds for improvements to Southern Research's campuses. For 2019, the Wellness Committee is outfitting a workout facility with new equipment for employees on the Southside campus.
Previous projects renovated the Thomas Martin Library on the Southside campus and updated the lobbies at three Southern Research locations.
The Employee Give Campaign is part of a broad-based philanthropic program at Southern Research.
"Philanthropic funding is crucial to the success of early stage scientific research," MacCann said. "The more we can raise to support our work, the faster we can bring life-saving therapeutics and technologies to those in most need. Our employees are the driving force behind this effort."
Southern Research's four operating divisions focus on drug discovery, drug development, engineering, and energy and the environment. Its staff of more than 400 scientists, engineers and researchers work at facilities in Alabama, Georgia, Maryland and Texas.