FAYETTE, Alabama — As the point man for the Fayette Area Chamber of Commerce, Danny White sees the hopes and struggles of small business owners in this northwest Alabama town, and he knows they sometimes can use a helping hand.
"Small businesses don't have a lot of resources, so it's really helpful to have outside eyes to come in and look at a problem," White said. "When you're in a small town, you need some fresh eyes, some fresh ideas. That alone is a big deal."
Enter Steven Puckett and Southern Research's Prosperity Fund, an initiative backed by the Appalachian Regional Commission that aims to foster job creation and facilitate entrepreneurial activity in a four-county area in Alabama impacted by the coal industry's downturn.
Puckett, managing director of The Prosperity Fund, has been working with small businesses and entrepreneurs in Fayette — population 4,500 — since late last year. He's become a familiar face in town, providing advice on funding sources and suggestions on ways to trim business expenses, as well as helping out with market research and logo design, and much more.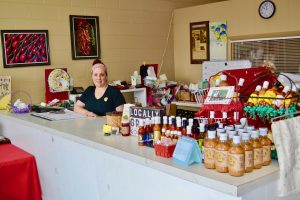 "Our main goal is to lend our capabilities as an organization to small business owners in across Alabama's coal region to overcome the challenges that are preventing them from growing and creating jobs," Puckett said.
"For a community like Fayette, it's especially important because positioning small businesses for success will inject vitality into the local economy and fire up the engine of job creation," he added.
POWER OF 'POSITIVE RESULTS'
White knows Fayette's economy faces some headwinds. Following a growth spurt in the 1970s, the city's population has dropped, and its per capita income remains at a level that's around half the U.S. average. Like much of Alabama, entrepreneurial activity in the city has lagged.
Then the coal industry collapsed.
Fayette County lost all of its coal jobs in 2013, when the North River Mine near the Berry community shut down after 40 years of operation. Some of the 320 or so miners who worked there were able to transfer to other mines owned by Walter Energy, but many of them saw jobs paying as much as $70,000 a year vanish, triggering a massive economic blow.
White believes facilitating small business growth will provide a sustainable economic boost to the area.
"Fayette is not going to attract any big new industries, so our focus is on small businesses and their potential for growth," he said. "And when people start seeing positive results from small business growth, things can just build on that. It's like a snowball effect."
ALABAMA SUNSHINE
Julie Madison, a former pre-school special education teacher turned entrepreneur, and her brother, David Smith, are the driving forces behind Alabama Sunshine, a Fayette business that specializes in hand-crafted hot sauces and other artisanal products.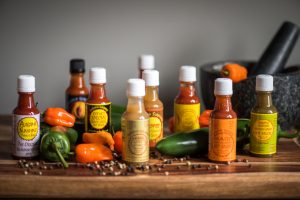 Alabama Sunshine's products, based mostly on homegrown peppers and unique recipes, are sold by 200 retailers and shipped across the U.S. to fill online orders.
Madison recently moved the business into a new downtown location several times larger than its old storefront home.
Still, the jump into the business world has been an adjustment for the newcomer.
"It's 10 times harder than I thought it would be," she said. "It was a huge challenge and a big learning curve."
Puckett, who has been working with Madison since last October, has investigated cheaper sources for the bottles used by Alabama Sunshine, which could mean big savings for the company. He's also teamed with college interns working with the initiative to develop marketing strategies to expand Alabama Sunshine's business and to design merchandise for the shop to sell.
"Steven's help has been really great because sometimes, as a small business owner, you've got blinders on. You're just trying to make, to get through the week and figure out what to do next," Madison said.
"When someone comes in and says, 'Hey, how are you getting your name out there? What about marketing?' These are the things that, when you're in the grind, you don't think about much. You've got your head down."
WORKING TOGETHER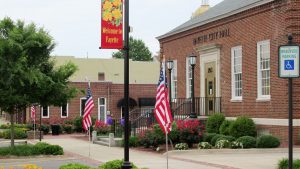 Puckett has joined with White to assist a number of other Fayette small businesses and organizations.
Puckett has been working with leaders of the Fayette Area Community Development Corp., a non-profit established to renovate a historic downtown hotel property, to identify possible funding sources to help advance a $3 million project that could have a major impact on revitalization efforts.
"We have everything else to get started on it. The last piece of the puzzle is financing," White said.
Puckett has also provided a helping hand in the reopening of a downtown restaurant and has worked to get a financially struggling thrift store operation on track. He's making plans to assemble an angel investor network to benefit capital-strapped small business owners and aspiring entrepreneurs in the area.
White thinks The Prosperity Fund's presence in Fayette is transmitting a positive signal about what's possible in the community.
"There are a lot of things we can do together," he said. "Once people start to see that things are happening, it just has a stimulating effect on them. People will start to say, 'Hey, I can do this. I can start a business or expand my business.'"
Madison at Alabama Sunshine said many small enterprises in Fayette can profit from the initiative's assistance.
"I think the No. 1 thing is showing small businesses how they can cut costs. That's a huge help. In a small business, a family-run business, the bottom line is everything. Every little bit counts," she said.
---
Stay up-to-date with SR's research, discoveries, upcoming events and more: sign up for our monthly newsletter.