The U.S. Department of Energy (DOE) has selected Southern Research for an award of up to $5.9 million to advance production of high-performance, low-cost carbon fibers from biomass. The DOE award will fund development of a multi-step catalytic process for conversion of sugars from non-food biomass to acrylonitrile – a key precursor in the production of carbon fiber.
Thanks to its high strength and light weight, industrial demand for carbon fiber continues to grow in a number of fields, including defense, space, aviation, automotive, wind turbine production, and sporting goods manufacturing.
At its Durham, North Carolina facility, Southern Research is developing a method of producing acrylonitrile and other bio-based chemicals using renewable, non-food-based biomass feedstocks.
The DOE's initial award, announced in July 2014, was divided in two stages. Phase I called for the completion of lab-scale studies to demonstrate the process and verify techno-economic viability. Phase II consists of constructing and operating a pilot plant to scale up the process to produce kilogram levels of acrylonitrile, while demonstrating process reliability and product validation.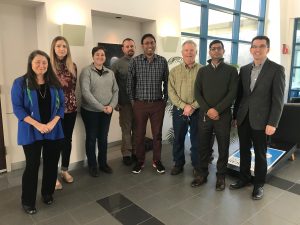 Southern Research successfully completed Phase I work in 2017 and met all DOE milestones. In late November, DOE authorized Phase II of the project, and Southern Research has started pilot plant construction.
Bill Grieco, Ph.D., vice president of Southern Research's Energy & Environment, said the organization's process for producing acrylonitrile from biomass promises to change the economic and environmental footprint for the carbon-fiber supply chain.
"The use for carbon fiber is increasing as manufacturers look to increase strength while also reducing weight of their products. Those manufacturers are also demanding lower cost and sustainably produced carbon fiber," Grieco said.
"By focusing on the conversion of biomass-derived sugars to acrylonitrile, the key raw material in the highest-quality carbon fiber, Southern Research is enabling low-cost carbon fibers without any compromise in product performance."
CHEAPER, CLEANER PROCESS
The process developed by a Southern Research team lead by Amit Goyal, Ph.D., associate director and the principal investigator on the project, produces acrylonitrile that is around 20 percent cheaper than conventional production methods. The process also results in a 37 percent reduction in greenhouse gases.
"At Southern Research we have developed an innovative, elegant process that utilizes biomass derived sugars from any source, allowing for the use of a variety of biomass feedstocks, to produce acrylonitrile," Goyal said.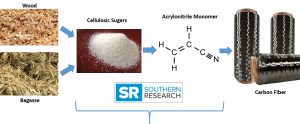 "This process could not only potentially improve economics, but may also improve the overall environmental footprint of carbon fiber production when compared to traditional manufacturing methods."
Team members on the project include Solvay Composite Materials (formerly Cytec Carbon Fiber, LLC) and New Jersey Institute of Technology (NJIT). The bio-based acrylonitrile produced by Southern Research's process will be validated by Solvay, a major carbon fiber manufacturer, and compared with petroleum-based acrylonitrile as a potential direct substitute. NJIT will assist with catalyst characterization for optimizing catalyst performance.
"Solvay is very excited about the importance of this research and our ability to be a trusted and valued partner in the development of the next dimension of carbon fiber technology," said Billy Harmon, carbon fiber research and innovation director for Solvay.
---
Stay up-to-date with SR's research, discoveries, upcoming events and more: sign up for our monthly newsletter.