Southern Research has been awarded a new, five-year Indefinite-Delivery Indefinite-Quantity (IDIQ) contract from the National Cancer Institute to investigate the pharmacokinetic properties of antitumor and other therapeutic agents of interest to the Division of Cancer Treatment and Diagnosis (DCTD) under NCI contract HHSN261201600021I.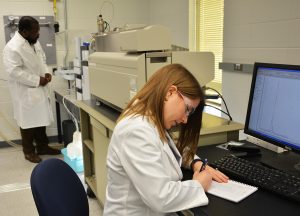 RFP number N02CM67000-11 was issued under full and open competition, which resulted in five IDIQ awards. Task orders will be competed among the five IDIQ Contractors in the award pool and placed off of the IDIQ as requirements arise.
This IDIQ contract is one of three long-term contracts the Birmingham-based organization holds with the NCI to support its objective of developing compounds against cancer and other diseases.
"Southern Research has been working with the NCI for over 30 years with one goal in mind: helping advance the pipeline of potential drug candidates so the NCI can move forward with clinical trials," said Sheila Grimes, D.V.M., Ph.D., D.A.C.V.P., pathology program leader and principal investigator on the project for Southern Research.
KEY ANALYSIS
Pharmacological testing is an integral part of the drug discovery and drug development processes. In order for clinical trials to commence with a candidate compound, researchers must first answer questions pertaining to how the drug interacts with, and exists within, the human body.
To accomplish this goal, Southern Research will employ a number of tests to explore in vivo tumor models and analyze the bioanalytic makeup of the compound. Under the scope of the contract, the organization is tasked with evaluating how the sample drug moves through a living system and analyzing the amount of time required for candidate compounds to break down within a system, or under a range of conditions.
"Southern Research has worked closely with the NCI for more than 30 years, and we are proud to continue those efforts in this program defining the pharmacokinetics of the next generation of anticancer medications," said Art Tipton, Ph.D., president and CEO of Southern Research.
"The trinity of government, industry, and nonprofit research organizations like Southern Research is a necessary collaboration to enable most drugs to reach the market. We're pleased to continue our role, and I commend our team for their ongoing extraordinary work in the field."