Southern Research's Prosperity Fund is assisting an Alabama startup that sees one of nature's great recyclers – the black soldier fly – as an instrument to convert chicken poop into high-value products such as protein-rich animal feed and organic fertilizer.
CHONEX, the brainchild of entrepreneur Michael Lynch and fifth-generation farmer Harley Martin, got its start about 18 months ago, and Southern Research has been involved in the firm's development almost from the beginning.
"They've been a huge part of helping us solve some initial problems," Lynch said. "We're just getting started, but I imagine this is going to turn into a long-term relationship with Southern Research."
CHONEX calls itself an agribusiness nutrient recycling company, but that hardly tells the whole story.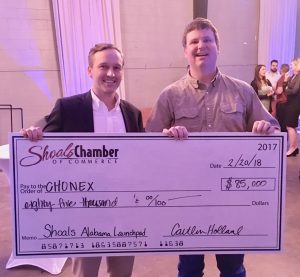 Using a proprietary process, CHONEX applies black soldier fly larvae to poultry manure. The voracious larvae convert the waste into three products: a certified organic protein feed, a fatty acid used in cosmetics, and a high-value organic fertilizer and soil enhancer.
"I think there is a lot of potential in what we're doing," Lynch said.
ENVIRONMENTAL BENEFITS
Corey Tyree, Ph.D., Southern Research's director of strategic growth initiatives and a co-founder of The Prosperity Fund, said CHONEX's technology not only has commercial potential but also addresses several problems facing the agriculture industry today.
For one thing, the industry needs sustainable and more efficient methods to produce protein since most soybeans, one-third of all grains, and a large portion of caught wild seafood go to make animal feed. At the same time, egg producers need new sources of organic protein.
Meanwhile, poultry companies are searching for smart alternatives for the more than 6 billion tons of chicken manure produced each year. With the industry exploring methods to handle waste that are more environmentally friendly, the timing is right for CHONEX's model, Tyree said.
"CHONEX is increasing the process intensity of egg and protein production and creating beneficial uses for nutrients found in the manure," he said."Though there are many uses for chicken manure, processing it using a highly controlled, closed, industrial system offers several advantages.
These include near-complete utilization of available nutrients, intense production of proteins, and less environmental impact compared to other beneficial uses for manure.
CHONEX also aims to tap into the growing demand for organic fertilizer and soil amendments that improve the capacity to support plant life. It says one of the largest by-products of its process is organic fertilizer with high values of nitrogen, phosphorus and potassium.
GOD'S RECYCLER
Lynch became acquainted with the potential of black solider flies after conducting consulting work that centered on their potential. He thinks the black solider fly, whose larvae are champion eaters, represents the ideal vehicle to advance CHONEX's goals.
"It's been around for about 66 million years, and its larvae was eating dinosaur manure. It was what God designed to help recycle waste. This recycling process has been happening naturally for millions of years," he said. "What's happened recently is that concentrated poultry operations don't allow for this process to happen naturally.
"So, we're going to scale up the insects to eat the manure and continue the natural process."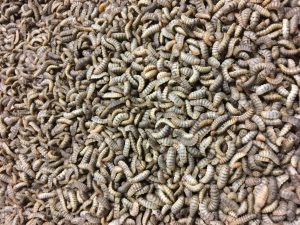 Lynch and Southern Research joined forces in early 2017, after the CHONEX CEO delivered his first-ever business pitch at a meeting of the Birmingham Venture Club. Lynch had carefully rehearsed his pitch, but lost track at one point and had to wing the rest in a panic. He thought he had blown a big chance.
After the event, Art Tipton, Ph.D., president and CEO of Southern Research, approached Lynch and handed over a business card. A telephone call followed. Tipton steered him to Bill Grieco, Ph.D., vice president of Southern Research's Energy & Environment division and a co-founder of The Prosperity Fund.
Soon, CHONEX was part of The Prosperity Fund, a $2.4 million initiative launched by Southern Research in 2017 to foster small business growth and spark job creation and economic vitality in four Alabama counties affected by the coal industry's downturn.
Through the Prosperity Fund, Tyree has worked with Lynch on a variety of challenges facing a startup with few resources. He helped research patents to ensure that CHONEX's intellectual property in nutrient recycling was safe from challenges.
Lynch said Tyree's team at Southern Research has helped him develop important relationships with potential partners for equipment production and as suppliers of black soldier fly eggs. Tyree also supported CHONEX in a meeting with the International Fertilizer Development Center (IFDC), a non-profit in Muscle Shoals that can help study ways to improve the company's processes.
Lynch said Tyree's team has brainstormed on equipment design and ways to overcome significant engineering challenges posed by scaling up those processes. Ultimately, Southern Research may help design testing protocols to aid in material handing and product quality control.
"CHONEX has benefitted from its relationship with Southern Research from the early days of the company," Lynch said.
GROWTH PLANS
Lynch is encouraged by CHONEX's progress with its protein extraction technology. (The company's name is an acronym stemming from the four components of protein – Carbon, Hydrogen, Oxygen, and Nitrogen, as well as "ex" for extraction.)
The fledgling company has already formed a partnership with a large poultry company and received interest from fertilizer industry leaders. It has retrofitted an 8,000-square-foot, climate-controlled hog barn at Martin's farm in Pickens County as a black solider fly nursery and will soon launch a testing project with renowned entomologists.
Lynch added the company's headquarters – now at his Birmingham home – will move to space at the IFDC, which will serve an incubator for the startup. A larger nursery is eventually planned for Baldwin County.
The company is getting noticed. Judges at an Alabama Launchpad startup competition in February 2018 awarded CHONEX $85,000 in seed funding to support the company's development. That was on top of $10,000 awarded earlier by the Birmingham Venture Club.
"That day at the Venture Club was probably the lowest point in my career with CHONEX, but Art Tipton kind of turned everything around for me by giving me his card," Lynch said. "I'm grateful that he helped me get on this path."
---
Stay up-to-date with SR's research, discoveries, upcoming events and more: sign up for our monthly newsletter.