Southern Research's Prosperity Fund is collaborating with students from the University of Alabama's STEM Path to the MBA program to explore strategies to improve the fortunes of Walker County's forest products industry.
The UA students, working with Prosperity Fund Managing Director Steven Puckett on a yearlong research project, are investigating a wide range of ways to spur a comeback for the industry in a county already battered by the coal downturn.
The students are evaluating possible new uses for Walker County's vast timber resources, including engineered wood panel systems used in construction projects. They're also studying unconventional solutions such as the viability of bamboo farms to augment the county's sprawling pine tracts.
"We're working as a team to develop concrete recommendations that will help this important industry in Walker County move toward more fully reaching its potential," Puckett said. "We're searching for ideas that could lead to job creation and provide a boost to small businesses in the county."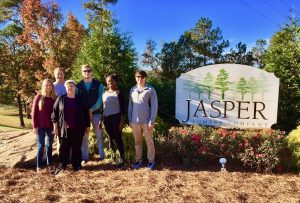 With financial backing from the Appalachian Regional Commission, Southern Research formed The Prosperity Fund in 2017 to accelerate small business growth and job creation in four Alabama counties hurt by the coal industry's downward spiral. Besides Walker, the counties are Fayette, Tuscaloosa and Jefferson.
'ECONOMIC ROLLER-COASTER'
Troubles for Walker County's forest products industry began shortly after the loss of 500 coal jobs. In 2014, a paper mill in Courtland – about 70 miles from Jasper and the chief consumer for Walker County wood fiber – shut down after 40 years of operation.
The mill's loss has dealt a heavy blow to the industry across the region, said Paul Kennedy, president of the Walker Area Community Foundation, a partner in The Prosperity Fund.
"The forest products industry is a traditional economic roller-coaster," Kennedy said. "This time, the roller coaster got to the bottom of the hill, and there was nothing to pull it back up."
Today, Puckett said harvesters in Walker County must transport their product – essentially a bulk commodity with a low per-unit value — great distances under extremely uneconomical conditions.
"In Walker County, the producers have all this land and all these trees, but nowhere nearby to take it," he said. "They have to take their loads about 150 miles one way, which means they travel all that way to make a delivery, then deadhead it back with nothing."
REAL-LIFE LEARNING
The UA students got involved when Puckett approached Pamela Hill, a clinical instructor in the STEM Path to the MBA program, which allows high-achieving undergraduate students majoring in STEM disciplines to earn an MBA in an additional year.
Student Alex Jaffery said the UA team has been engaged in finding new solutions to improve the use of Walker County's natural resources. His role has been to research alternative products, specifically bamboo. He served as a liaison with a company called Resource Fiber that's seeking to commercialize bamboo.
"I learned a lot about business optimization in the project. In the program we also learned about formulating business models," Jaffery said. "With the project I was able to formulate and apply a business model to a real-life situation."
Other UA students working with the Prosperity Fund are Tyler Matthews, Tom Kobitter and Nichole Cheatum.
EXPLORING NEW OPTIONS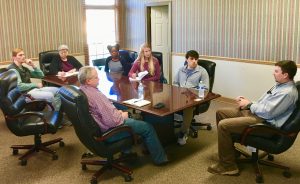 Puckett said the UA students have focused on identifying catalysts that could spark growth in Walker County. One idea centers on cross-laminated timber, or CLT, an engineered wood panel system that is increasingly used in construction projects, particularly in Europe.
The students have been willing to think outside the box. Their research determined that pine trees yield about $54 an acre over 20 years. Bamboo, on the other hand, can yield between $700 and $1,500 per acre. And once it's established after seven years, bamboo can be harvested every year.
"There's a huge difference in value," Puckett said. "If bamboo could be introduced on a meaningful scale and markets found for it, that could produce a substantial potential economic impact on the county."
The student group has also met with several large companies involved in land management in Walker County. One company is intrigued by their bamboo idea; this spring, a test plot will be planted on reclaimed mine land as an experiment, Puckett said.
In addition, a lumber company in Jasper is evaluating a cost-saving suggestion advanced by the students. The company currently imports expensive exotic wood from South America to use as spacers in its wood kilns. Tests will show whether bamboo grown and processed in Walker County serve the same purpose more cheaply.
One unconventional idea being explored involves planting lavender on a commercial scale on reclaimed mine lands for sale to industrial producers of essential oils.
Kennedy at the Walker Area Community Foundation is grateful for the students' involvement and isn't concerned that some ideas likely won't fly. He recalled an anecdote about inventor Thomas Edison saying 300 failures taught him valuable lessons.
"If the students can take us through the 300 ways that won't work for our forest products industry and get us to the one way that actually lights up and changes the world, that's what I'm after," Kennedy said.
Corey Tyree, director of strategic growth initiatives at Southern Research and a co-founder of the Prosperity Fund, said he is confident the students will develop actionable recommendations that could benefit the forest products industry in Walker County.
"The Prosperity Fund operates by harnessing available resources and identifying innovative solutions to difficult problems holding back industries and communities," Tyree said. "Our work with these talented University of Alabama students to assist Walker County's timber industry aligns perfectly with that strategy."
---
Stay up-to-date with SR's research, discoveries, upcoming events and more: sign up for our monthly newsletter.