Southern Research has been selected to receive nearly $1.7 million in U.S. Department of Energy funding (DOE) to develop a new, cost-efficient gasifier capable of converting low-grade coal into synthesis gas (syngas) that can be used in a number of applications.
Birmingham-based Southern Research's gasifier is based on a small-scale, modular design that is simple to deploy at site-specific locations, even at remote spots. The syngas produced can be converted into electricity, heat, chemicals, gasoline and other fuels, or a combination of these products.
The gasifier's technology could open new markets for domestic coal, providing a boost to a major industry that is struggling with declining demand and massive job losses.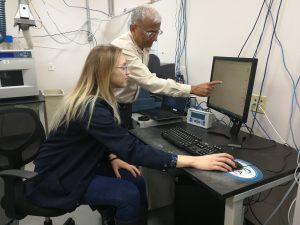 Southern Research's novel gasifier will have a number of advantages over existing large-scale systems, said Santosh K. Gangwal, Ph.D., director of business development at the organization's Energy & Environment (E&E) division and principal investigator on the project.
"Gasifier systems provide product flexibility, but large gasifiers have high capital costs and are complex to operate," Gangwal said. "Also, the raw syngas produced by many gasifiers contains significant levels of tar that is undesirable and must be separated to prevent damage to downstream process equipment.
"The unique, simple, and modular Southern Research gasifier design has the potential to achieve low capital cost and to produce a nearly tar-free syngas," he added.
UNLOCKING POTENTIAL
The Southern Research gasifier project is valued at $2.1 million, including $1.7 million in funding from DOE's Office of Fossil Energy, which is seeking to foster the early adoption of modular coal-gasification technology. Southern Research and its partners on the project will provide $425,000 in cost sharing.
Partners include Murray, Utah-based Reaction Engineering International, which will lead the computational modeling effort on the project, and Mt. Prospect, Illinois-based Unitel Technologies, which will provide technical services on modeling, gasifier design and construction.
The project aims to move the technology through pilot scale development and testing, with the goal of being ready to construct a gasifier for a 1-5 megawatt energy conversion system at the end of the 36-month program. A system producing 1 megawatt of electricity would need to gasify about 1,200 pounds of low-rank coal an hour, Gangwal said.
The Office of Fossil Energy's National Energy Technology Laboratory will oversee the project.
FLEXIBLE DESIGN
Advances in gasification technology represent an important facet of unlocking the full potential of domestic coal resources, which will improve U.S. economic competitiveness and contribute to the protection of the global environment.
Gangwal said the small-scale, modular design of Southern Research's gasifier reduces financial risk while offering a conversion system with new levels of flexibility and affordability.
"Modular systems can be standardized and shop fabricated with standard designs that can allow simple assembly in the field and result in significant cost reduction for small plants," he said. "Several shop fabricated small gasifier modules can be run in parallel in the field to increase the size of the plant to the desired scale."
Although the project will target coal gasification, the system's unique design incorporates operating adjustments to allow it to be used for other solid fuels including wood, agricultural resides and municipal waste, Gangwal said.
Bill Grieco, vice president of E&E at Southern Research, said the gasifier's versatile design and its ability to produce tar-free, cost-efficient syngas using a variety of raw materials are major advantages.
"The technology being developed by Southern Research has the potential to expand the uses of the nation's abundant fossil fuel resources by allowing coal to be utilized in new and cleaner forms," Grieco said. "Developing and deploying lower-cost systems that convert coal cleanly to fuels and chemicals make sense. It helps drive energy independence and offers new opportunities for the coal industry."
Slightly more than 30 percent of the nation's electricity was generated from coal in 2016, according to the U.S. Energy Information Administration. Coal production in the United States declined 18 percent in 2016 from the previous year, hitting the lowest level of production since 1978, the agency said.