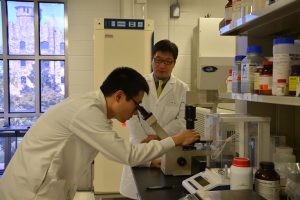 Since its founding in 1941, Southern Research has been actively participating in training the next generation of scientists. Various faculty members in Southern Research's drug discovery division hold academic appointments in departments at the University of Alabama at Birmingham (UAB) School of Medicine. They also serve as training members of the UAB Graduate School.
Over the years, numerous graduate students have completed their doctoral thesis research in Southern Research labs. In addition, postdoctoral training is a major training mission in the drug discovery division. Many Southern Research postdoctoral trainees have advanced their scientific careers to become independent researchers in both academia and industry.
In October 2013, Southern Research, in collaboration with the American Immigration Council, initiated a J-1 Visa training program for international trainees. The program allows international interns and trainees to work in Southern Research labs for up to 18 months of training on biomedical research.
"Training international scholars further fulfils Southern Research's mission of education and creates potential international collaborations for research in precision medicine in the future," said Bo Xu, M.D., Ph.D., Southern Research's cancer research department chairman.
Chunling Jiang, M.D., of Jiangxi Provincial Cancer Hospital in China, was the first to complete her one-year training in the oncology groups in fall 2014. Dr. Jiang is a seasoned radiation oncologist interested in developing novel approaches to helping cancer patients receiving radiotherapy. With bench-to-bedside training, she gained the knowledge and skills to conduct translational oncology research. Shang Cai, M.D. and Ph.D. candidate, from Soochow University in China is currently conducting training in the oncology groups at Southern Research.
For additional information about the program, contact Dr. Bo Xu, in the Southern Research Drug Discovery Oncology department.