Southern Research Vice President of Engineering Michael D. Johns has been inducted into the State of Alabama Engineering Hall of Fame in recognition of his contributions to game-changing technologies in support of NASA, the Department of Defense and others.
Since joining Birmingham-based Southern Research in 1997, Johns has established a reputation as an expert on advanced composite materials, played an important role in the development of strategic defense technologies, and expanded the scope of the organization's engineering activities.
Those who have worked with Johns say he has made lasting impacts on the engineering field in Alabama.
"Johns represents the best of what it means to be an engineer — his technical expertise is deep, his leadership has been proven time and time again, and his actions to help others make him someone worthy of emulation," said C. Stephen Cornelius, senior vice president at Kord Technologies Inc. in Huntsville.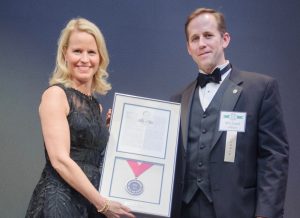 Robert M. Lightfoot Jr., vice president for strategy and business development at Lockheed Martin Space, worked with Johns while at NASA and considered him an ideal industry partner.
"His engineering depth made him a strong voice when advocating for key technologies this nation needed to develop," Lightfoot said. "Mike demonstrates an innate ability to effectively communicate the value of engineering technology and research at all levels."
Johns has served as a member of the NASA Advisory Council Technology, Innovation & Engineering Committee since 2014, supporting the advisory needs of the NASA administrator, the Office of the Chief Technologist, and NASA Mission Directorates.
He joins Coultas "Colt" Pears, an innovator who led the development of Southern Research's high-temperature materials laboratory, in the Alabama Engineering Hall of Fame. The lab, renamed for Pears, and Southern Research itself are also recognized in the Hall of Fame.
In 2017, Southern Research's Stuart Starrett, who is credited with making significant contributions to the development of reentry nosetips for U.S. ballistic missile systems, was inducted into the Alabama Engineering Hall of Fame.
Starrett, who remains a consultant, said the Engineering division, under Johns' leadership, continues to "celebrate technological successes in landmark contributions to our nation's defense" while also expanding in other areas.
Johns' induction into Alabama Engineering Hall of Fame took place Saturday, Feb. 22, at the Bryant Conference Center at The University of Alabama.
The Hall of Fame was founded in 1987 to celebrate the outstanding accomplishments and contributions of individuals, projects, and corporations/institutions that have brought and continue to bring significant recognition to the State of Alabama.
ENGINEERING LEADERSHIP
Johns has served as vice president of Southern Research's Engineering division since 2004. Under his leadership, the unit has grown in technical fields including advanced materials, aerospace engineering, composite structures manufacturing, automotive technology development, nuclear energy technologies, airborne sensor systems, hypersonics and additive manufacturing.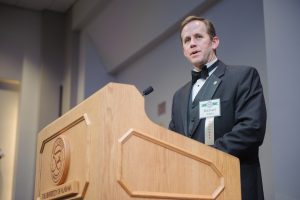 Steve Cook, executive vice president at Huntsville-based Dynetics, said he has gotten to know Johns through work on the U.S. Navy's hypersonic glide body program.
"Mike's engineering skills and leadership approach have already enabled extensive technological innovation in hypersonic glide body technologies, specifically reentry thermal protection systems," Cook said. "His involvement will undoubtedly continue to shape the hypersonics renaissance in the country, helping the United States to once again become a world leader in advanced hypersonic flight systems."
At Southern Research, Johns has directed and managed high-profile research and commercial projects in areas such as solar energy, municipal solid waste to energy conversion, water research, automotive engineering, space exploration  and  hypersonics.
During his tenure at Southern Research, Johns also directed the organization's Transportation Systems division and served as department head of the Materials Characterization Group. In this latter role, he was responsible for materials research programs for NASA and the Department of Defense, as well as emerging areas of automotive research in the Southeast.
He received a bachelor's degree in mechanical engineering from The University of Alabama and an MBA from UA's Manderson Graduate School of Business. He is of the current chair of the University of Alabama's College of Engineering Leadership Board and the member of the engineering leadership board at the University of Alabama at Birmingham, among many other departmental advisory boards across the state.