Southern Research's Stuart Starrett, who has made many significant contributions to the nation's defense, aerospace and energy industries, is being inducted into the State of Alabama Engineering Hall of Fame at a ceremony this Saturday.
During a career that began in the 1960s, Starrett has built a formidable international reputation as an expert in the behavior of materials in extreme environments such as atmospheric reentry and rocket propulsion systems.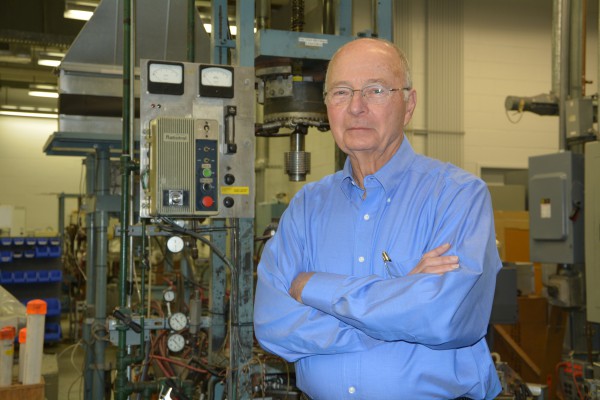 Those who worked with Starrett say his technical insights were vital to the development of reentry nosetips for advanced defense systems, including the U.S. Navy's C4 and D5 Submarine-Launched Ballistic Missiles and the Air Force's Minuteman III Ballistic Missile.
"His efforts helped win the Cold War without much official recognition," said John K. Shigley, Ph.D., of defense contractor Orbital ATK.
Added Keith Bowman, Ph.D., of the Air Force Research Laboratory at Wright-Patterson Air Force Base: "I equate what Stuart did for the nation's defense to what the engineers working for NASA in the 1960s did for space exploration."
They say Starrett also provided valuable insights into engineering challenges ranging from composite materials to hypersonic vehicles.
"What makes me proud is just being involved in programs that I thought were important to the U.S.A. and to national defense. That was sort of a mission for me, I guess," Starrett said.
SOLVING COMPLEX CHALLENGES
Starrett joins Coultas "Colt" Pears, an innovator who led the development of Southern Research's high-temperature materials laboratory, in the Alabama Engineering Hall of Fame. Southern Research and the high-temperature lab, renamed for Pears, have also been inducted into the Hall of Fame.
"Stuart's technical excellence allowed Southern Research to become the leader in high-temperature materials. His quiet leadership also inspired those around him, leading to programs in aero-propulsion, reentry systems, heat shields, ground-based turbines, and nuclear power," said Art Tipton, Ph.D., president and CEO.
"This honor is richly deserved, and recognizes the Stuart's legacy of impressive technical expertise and his many achievements that have strengthened national defense," he added.
Starrett, who received bachelor's and master's degrees in mechanical engineering from the Georgia Institute of Technology, joined Southern Research in 1965 as an associate engineer. He soon progressed to head the Solid Mechanics Section, then the Mechanics Division. In 1990, he was named Director of the Materials Research Department, a post he held for 16 years.
Officially in retirement, Starrett remains an active consultant on a variety of engineering projects.
"From the beginning, Stuart was able to use his love of mathematics to solve some of the most complex materials challenges of his day," said Michael D. Johns, vice president of Southern Research's Engineering division.
"He was a pioneer in the development and understanding of carbon-carbon composites, which are a foundational technology for human space flight, atmospheric reentry, and many other extreme-environment applications," he added.
Johns said Starrett's work helped to establish Southern Research's high-temperature materials lab as one of the few locations in the world capable of conducting thermal and mechanical tests at temperatures ranging from 70 to 5,500 degrees Fahrenheit.
While much of his work has concentrated on U.S. Department of Defense projects, Starrett also used his extensive materials and engineering know-how to help solve challenges for the energy industry. For example, he was involved in the development of material systems for the filtration of hot gases from boilers to be used in the recovery of the energy in a gas turbine – a technology being deployed today.
Starrett has made many technical presentations, primarily in the U.S. but also overseas, and published scientific papers on a wide variety of topics related to materials research.
HALL OF FAME
The State of Alabama Engineering Hall of Fame is overseen by engineering colleges and schools at Auburn University, Alabama A&M University, the University of Alabama, Tuskegee University, University of Alabama at Birmingham, University of Alabama in Huntsville and the University of South Alabama.
Since its inception 30 years ago, the Engineering Hall of Fame has honored 168 individuals. Saturday's induction ceremony will take place at the Renaissance Montgomery Hotel & Spa.