Southern Research's expanded STEM education efforts are making a difference in classrooms across Alabama, and even more students are in line to benefit from the program in the coming weeks and months.
A highlight was the Black History Month Science Fair, which Southern Research sponsored recently with Alabama Public Television and Birmingham Children's Theatre.
Students were asked to create a project that complemented the research of a famous African-American scientist or engineer. The event, which drew 500 people, was held at Birmingham Children's Theatre.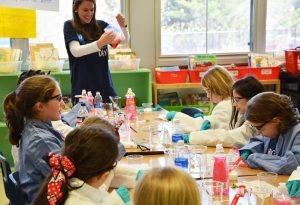 It was followed by a performance of Rosa Parks and The Montgomery Bus Boycott and a panel discussion with African-American scientists and engineers who work at Southern Research and NASA.
The educational aspect was significant, but just the trip to Birmingham was meaningful for many students, said Anna Wheeler, a sixth-grade science teacher from Escambia County Middle School in Atmore.
"A lot of my students had never even been out of Atmore, so just the simple fact that they were invited to go to an event in another city and present their ideas was mind-blowing to them," she said. "A lot of them were hesitant to even send in something because they didn't think their ideas were good enough, so it was definitely a boost of confidence to be accepted into the science fair."
As their buses traveled into downtown Birmingham, students were excited to see big buildings, and they were amazed by the expressway that runs through Red Mountain.
"The amount of pictures taken on the bus was unbelievable. We had a mini science lesson on how they carved through that rock," she said.
Wheeler said the event was a huge stepping stone for all of the students.
"It really got them motivated," she said. "A lot of students I don't usually see participate in STEM activities came out of their comfort zone to create projects and make presentations. They can't wait to do it again next year."
ENGAGING STUDENTS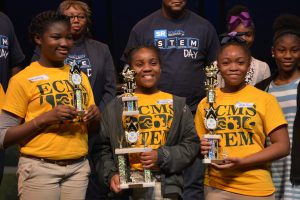 That excitement is a key goal of Kathryn Lanier, Ph.D., Southern Research's first STEM Education Outreach Director. Since joining the non-profit organization last year, she has been busy planning events and designing experiments.
"Working on solutions to real-world problems is the heart of any STEM investigation. And that is what our program is doing," she said. "We are deeply committed to engaging the students in true project-based learning."
Lanier is serious about the impact of her work, as well as the importance of showing students what a STEM career looks like.
"Our No. 1 priority is to expose students and teachers to real-world STEM," she said. "We want to give them an experience they can't get inside the walls of their classroom. So, when I'm designing experiments, I want to make sure it reflects the work we're doing at Southern Research."
For example, at an upcoming Spring Break Camp at Southern Research, students will measure the effect of caffeine on cardiovascular function using chick embryos.
"While our drug development researchers aren't necessarily testing caffeine, they are using chick embryos to test other drugs, and we'll utilize many of the same techniques," Lanier said.
This summer, a new STEM lab is scheduled to be complete, giving Lanier much-needed space to regularly host larger groups of students. It will be outfitted with 3D printers, robotics equipment, coding software, drones and other features to support an interdisciplinary approach.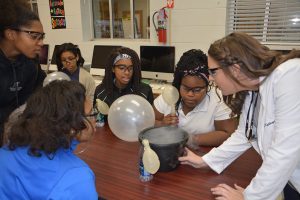 "By using a space that integrates engineering and technology into science, we're combatting the misconception that science can be learned through a single lens," Lanier said.
"Most importantly, teachers can bring their entire classes, because the lab will be able to accommodate 50 students at a time. While our scientists and engineers love hosting students in their labs, they do have important jobs solving the world's hardest problems."
SHARING A NEW WORLD
Lanier, who holds a doctorate degree in biochemistry from the Georgia Institute of Technology, said her own journey with STEM education was challenging at times, and that's something she shares with students today.
But she stuck with it, because she fell in love with research and the pursuit of solving problems. She was also encouraged by teachers and mentors, who showed her a new world of possibilities.
"Kids start developing ideas of what they're good at when they're very young, and if they've never been exposed to science and engineering they're never going to realize their potential" she said.
---
Stay up-to-date with SR's research, discoveries, upcoming events and more: sign up for our monthly newsletter.