Southern Research announced plans to expand the scope of its longtime educational outreach efforts with the hiring of a STEM educator to direct a statewide program that aims to inspire young people to pursue careers in science and engineering, in addition to training teachers involved in these fields.
Kathryn Andrea Lanier, Ph.D., joins Birmingham-based Southern Research as its first STEM Education Outreach Director. She will design programs that will bring stimulating, hands-on learning experiences focusing on science, technology, engineering and math activities to students across Alabama.
"Since its founding more than 75 years ago, Southern Research has executed on a mission to introduce young people to science and engineering, to inspire some as a career choice, and for all to be citizens better equipped to make important decisions," said Art Tipton, Ph.D., the non-profit organization's president and CEO.
"Kathryn coming on board furthers that important effort, and positions Southern Research more strongly to participate in the development of the next generation of STEM professionals powering new discoveries in Alabama," Tipton added.
The expansion of Southern Research's STEM education efforts is made possible by funding from the Alabama Legislature earlier this year. This support prompted the organization to further study how its STEM outreach can complement existing programs across the state and fill gaps that currently exist.
"Southern Research has been responsible for many important accomplishments, from discovering seven cancer-fighting drugs and supporting the space program to contributing to key national defense programs," Governor Kay Ivey said.
"It's exciting to see this unique organization expand its mission to inspire young people in Alabama today to explore opportunities in the types of 21st Century jobs that will move our state forward," she added.
Governor Ivey visited Southern Research's downtown Birmingham campus on Friday, Sept. 8, where she met Lanier. She also talked with researchers including Rita Cowell, Ph.D., a neuroscientist studying Parkinson's and other diseases; Rebecca Boohaker, Ph.D., a cancer researcher; Lindsay Miller, an associate scientist; Ken Jeffers, manager of resource recovery; and Jacques Cuneo, a materials engineer.
The governor is also addressed Southern Research employees during a short reception in the Martin Library.
FUTURE GENERATIONS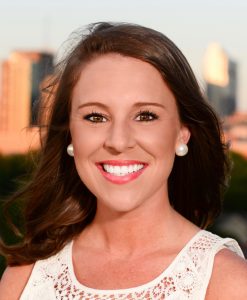 Southern Research is expanding its educational outreach at a time when STEM jobs are in demand. Figures from the U.S. Bureau of Labor Statistics (BLS) show that employment in STEM occupations grew by 10.5 percent between 2009 and 2015, compared to 5.2 percent for non-STEM jobs.
Highly sought-after STEM workers also earn more than employees in other fields. The average STEM salary was $85,570 in 2015, nearly double the $45,700 average for all occupations, according to BLS data published this year.
Lanier, who holds a doctorate degree in biochemistry from the Georgia Institute of Technology, has been heavily involved in STEM outreach programs. She has conducted workshops for STEM educators, directed hands-on science activities for elementary school students, and mentored high school and college students.
Lanier has authored several scientific papers, delivered presentations at conferences, and acted as an instructor in college-level lecture and laboratory classes.
She said her new position at Southern Research aligns with her lifelong goal of inspiring future generations of scientists.
"While biochemical research is my forté, STEM education and outreach is my passion," Lanier said. "I not only consider STEM outreach work to be a form of giving back, but I also believe regaining and promoting science and math literacy is imperative to our country's future. I am so grateful for the opportunity to empower the many diverse communities of Alabama and stimulate the state's STEM learning environments.
"Southern Research has all the necessary components to provide exceptional educational experiences to those across the state," she added. "We'll do this together, and I am honored to be part of it."