Southern Research is making significant strides in efforts to improve STEM education in classrooms across the state.
As of last month, the organization's STEM education outreach program has touched 35,045 students from 40 of Alabama's 67 counties.
Field trips, which bring students to Southern Research's Birmingham campus and its state-of-the-art STEM lab, are a key part of the program.
Last school year, there were about 30 field trips, and that number has grown to nearly 80 in the current, 2019-2020 year.
"It has evolved into something truly spectacular, and we are swamped with field trip requests," said Kathryn Lanier, Ph.D., Southern Research's STEM education outreach director. "We have an online request form, and we are completely booked, with a waiting list."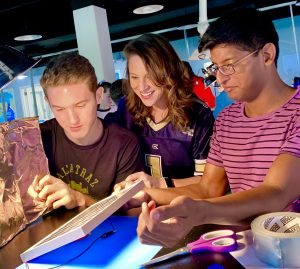 Lanier credits the growth of the field trips to Liz Johnson, Ph.D., who was hired about a year ago as a STEM education specialist.
Johnson, she said, has done an impressive job of coming up with new content and fresh ideas to present the important work that Southern Research scientists do in a fun and relatable way.
Field trips cover a variety of topics and are designed to correspond with Southern Research's different focus areas, including Drug Discovery, Drug Development, Engineering, and Energy & Environment.
For example, one field trip format focuses on infectious diseases, walking students through the process of tracking and diagnosing infections. They learn basic principles of immunology, including how the presence of foreign substances, known as antigens, can induce the formation of antibodies.
In this field trip, students participate in a simulated disease outbreak activity, investigate primary and secondary immune responses and diagnose disease using enzyme-linked immunosorbent assays.
In another field trip series, students focus on green engineering in learning how to transfer renewable resources like wind, water or solar energy into electricity. They learn about the basics of kinetic and potential energy, the conservation of energy and the transfer of energy by designing, building and testing renewable energy prototypes.
Students also explore how strains of bacteria become resistant to antibiotics, and they learn the underlying chemistry of ocean acidification.
LAB SETTING
Johnson said the Southern Research STEM lab, which opened in the summer of 2018, is the perfect setting to capture students' attention and fuel their interest in STEM subjects.
The brightly colored space is outfitted with equipment and supplies to conduct physical and life science experiments in a fully functional lab setting. It also features 3D printers, robotics equipment and other innovative engineering gear.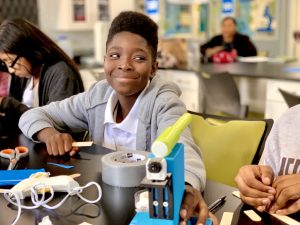 "Every time a new group comes in, it's so fun to watch their faces," Johnson said. "They tell us it looks like Disney World or Nickelodeon Studios, and that excitement helps them learn.
"We want to fuel their desire to learn through engaging hands-on experiments. A new and exciting environment allows them to open up and be more receptive to new things," she added.
Most field trips include between 40 and 44 students. Participating students range from sixth grade to 12th grade, with a good mix of middle and high schools visiting the campus.
One of the major goals of the field trips is to give students a real-world understanding of the lessons they are taught in the classroom, Johnson said.
"We not only want to align our content with the Alabama course of study, but we also want to align it with the science and engineering we do here at Southern Research," she said.
The field trips are free. Southern Research provides materials and supplies, as well as lunch if the students are on campus for a full day. The organization also offers reimbursement for bus transportation and substitutes in the classroom for the teachers who make the trip.
"We've learned a lot of these school systems don't have the financial means to go on field trips, and us offering this for free really gives them the opportunity to enjoy it and not worry about the financial strain. That has enabled a lot of students and teachers to come," Johnson said.
HANDS-ON LEARNING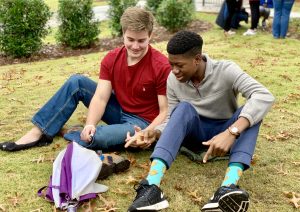 Feedback from teachers has been positive.
Cheryl Massey, 8th Grade Science & STEM Instructor at Fort Payne Middle School, took her students on a field trip to Southern Research after they studied energy in physical science class.
The group participated in the green engineering project in which they designed, constructed and tested wind turbines. After that, students used their data to create and analyze graphs, which helped them brainstorm ways to improve their designs.
"Standing back and observing our students apply their knowledge and work together was enlightening. Southern Research is an outstanding way to provide students the opportunity for hands-on application learning. The program schedule fit perfectly with our day, allowing us lunch time and travel time," Massey said.
Lanier said the field trip program grew out of STEM Day, a one-day event that pairs students with Southern Research scientists to get a behind-the-scenes look at careers in STEM fields.
"Incredible things happen when you put students in a space that that not only inspires a sense of discovery but also places them right next door to world-class scientists and engineers. It creates an atmosphere where students can begin to believe that they too can be the ones who shepherd impossible innovations and create the technologies of the future," she said.
The hands-on experience students gain in the lab helps further the ultimate goal of Southern Research's STEM education outreach program, which is to strengthen the pipeline of students entering STEM careers.
"There's such a history of innovation and greatness here at Southern Research, and it's very different from anything they could experience at school," Lanier said. "It gets these kids so excited, and that's what we want to see.
"We want to show them how rewarding, how much fun and what a difference they can make if they choose a career in STEM."