The Southern Research Advisory Board added three new members – Alexia Borden, Deon Gordon, and Elizabeth Scribner, Ph.D. – at its 1st Quarter meeting on February 23.
"This is an exciting time for Southern Research, and we are pleased that these three outstanding leaders have chosen to contribute their time and expertise to the Advisory Board as it works to support the organization's mission of solving the world's hardest problems," said board chairman David Perry, Vice President of Corporate Strategy at Protective Life.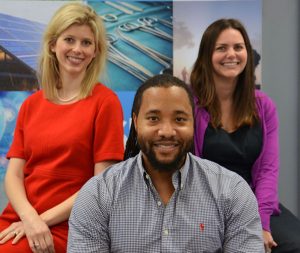 Alexia Borden serves as the senior vice president and general counsel for Alabama Power. She attended the Georgia Institute of Technology, where she earned a degree in industrial engineering, before attending law school at the University of Alabama. Prior to her 2016 hire at Alabama Power, Borden practiced law in Birmingham and Montgomery for more than a decade, representing clients in environmental and natural resource matters. She also serves on multiple boards across the state, including the Alabama Shakespeare Festival and the Baptist Health Foundation.
Deon Gordon comes to the board from TechBirmingham as the organization's newly selected president. Gordon formerly served as the director of business growth for REV Birmingham, where he led the launch of the organization's restaurant incubator REVeal Kitchen, located in the Pizitz Food Hall. He serves on a variety of city boards, including the Railroad Park Foundation, Birmingham Artwalk, Growing Kings, and the Commercial Development Authority of the City of Birmingham, and was the 2017 recipient of the A.G. Gaston Award for Outstanding Community Service. The same year, Gordon was also recognized by the Birmingham NAACP in its annual Salute to Outstanding African-Americans. Last month, he was named to the Birmingham Business Journal's annual Top 40 Under 40.
Elizabeth Scribner, Ph.D., joins the advisory board as a representative of Regions, where she works as an analyst in model risk management and validation. She received her undergraduate degree in History and Environmental Studies from Princeton University, and holds both a masters and doctorate in mathematics from UAB. In addition to her role at Regions, Scribner works as a technical advisor for Eagle Solar & Light, Birmingham's first full-service solar installation and LED lighting company, and assists in the company's educational outreach. Previously, she taught mathematics at Mountain Brook Junior High. Scribner also holds a position as a board member for the Kaul Foundation and the Greene Scholarship Committee.
"The addition of these new members will further bolster Southern Research's relationship with the Birmingham business community," said Watson Donald, SR Senior Director of External Affairs. "They, along with our existing advisory board members, will provide us with valuable feedback in many of our scientific and engineering endeavors as they continue to advance in their own respective careers."
In addition to Perry, existing board members include Stephen Black, Director, Center for Ethics & Social Responsibility at the University of Alabama; Jay Brandrup, Principal at Kinetic Communications; Nick Irvin, Director of Research and Development for Strategy, Advanced Nuclear, and Croscutting Technology at Southern Company; G.T. LaBorde, CEO at IllumiCare; Danny Markstein, Managing Director at Markstein; Liz Pharo, Chair at Momentum Telecom and Managing Partner at Featheringill Capital; Shannon Riley, President and CEO at One Stop Environmental; and Mitesh Shah, Shareholder at Maynard, Cooper & Gale, PC.
The Southern Research Advisory Board was established in 2015 to engage emerging business leaders in the Birmingham community who are committed to enhancing Southern Research's mission of scientific and engineering advancement.
---
Stay up-to-date with SR's research, discoveries, upcoming events and more: sign up for our monthly newsletter.