A former intern at Southern Research has been honored as one of the nation's top educators.
Raisa Eady, a biology teacher at Jefferson County's Pinson Valley High School, last month received the Milken Educator Award, known as the "Oscars of Teaching," during a surprise assembly at her school.
Given for more than 30 years by the Milken Family Foundation, the awards honor unsung heroes of the classroom for their impressive achievements. Each award includes a $25,000 cash prize.
Eady was part of the first Summer Internship Program for STEM Educators, or SIPSE, at Southern Research in 2018. She spent the summer working alongside the organization's scientists and had many amazing learning opportunities, she said.
"My biggest take away from my wonderful experience would be how the science world is truly multifaceted," she said. "Students often think of science as one-dimensional. In fact, there are many opportunities to be a part of the research world."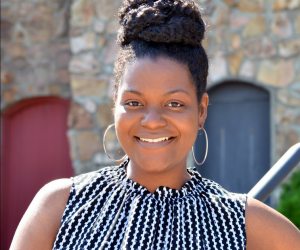 Eady said she enjoyed being part of the research process.
"I have always loved science and education; however, I never felt confident in my instrumentation. During my internship, I became a real member of my team. I also realized I had a great passion for cell culture!"
IMPORTANT LESSONS
The experience made a lasting impression, she said.
"My time at Southern Research had a profound impact on my work in the classroom. As I learned more about the intricate details of contract science, I realized that science does not always follow a typical 'scientific method' approach. It is definitely not a cookbook recipe process that is often projected in our science classrooms," she said.
Eady also was exposed to the business world behind research, and she is sharing that with her students.
"I have made it a point to discuss all of the possible career opportunities that are vital pieces to the world of research, whether it be cell culture, drug development, contract science, administration and more. It is important for our students to understand the varied pathways available to them in the field of science.
"It is also great to be able to throw in the occasional, 'while I was doing cancer research at Southern Research,' while teaching!"
'AN ABSOLUTE NATURAL'
Eady impressed her colleagues from the beginning of her internship, said her mentor, Michael Koratich, associate director and head of Oncology Drug Development at Southern Research.
"Raisa was awesome and an absolute natural," he said. "Within a couple of weeks of her coming on board, we had completely integrated her as a regular functioning technician in the laboratory."
Koratich said Eady asked good questions, thought things through and caught on to her new tasks quickly. Her summer project involved learning to grow cancer cells and perform cytotoxicity experiments.
"What we do in Drug Development is very different from a traditional research science path since we work with commercial customers as well," he said. "We interface with clients and determine how much a project will cost. The goal was to expose her to different sides of science, so she would have a frame of reference to let students know that it's not just all about working in the lab."
'A REMARKABLE TEACHER'
The Milken Awards target early- to mid-career education professionals for their achievements and for the promise of future accomplishments. Winners are given access to powerful networking and development resources throughout their careers.
To date, more than 2,800 awards have been given, totaling $70 million. Eady is among 13 award winners for 2019-20.
Eady earned a bachelor's degree from Alabama State University in 2012 and a master's degree from the University of West Alabama in 2018. Both are in biology education.
She serves as chair of Pinson Valley's science department, as well as lead teacher for the district's 150 science educators in grades 6-12.
Her Milken Awards bio notes her ability to make biology relevant to her students' lives, building great rapport with them and using daily learning targets, grouping, visuals and formative assessments to engage them.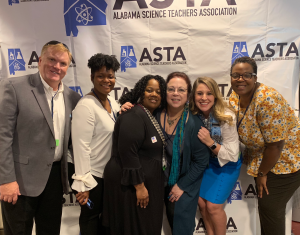 She mentors new teachers, leads the district's Literacy Design Collaborative Initiative and serves on the school's ESL committee and transformation team.
Eady also is working to build a robust AP Biology program, with the number of students taking the course and AP exam increasing over the past three years. She coaches the Science Olympiad and sponsors the Science National Honor Society.
Kathryn Lanier, Ph.D., Southern Research's STEM Education Outreach Director, said she knew Eady would win a top award someday.
"She is truly a remarkable teacher, and you can go into her classroom and see that right away," she said.
SIPSE was expanded from six spots in 2018 to 14 spots in 2019. The program offers participating teachers real-world applications of the subjects they teach. During the summer, the educators develop new strategies to teach STEM subjects in the classroom.
"All of the teachers that come to SIPSE are truly exceptional educators, and all SIPSE is doing is empowering them to challenge themselves," Lanier said. "SIPSE is giving them that extra nugget of research and science and giving them the opportunity to live that life."
Read an article about the program.