Southern Research continues to expand its efforts to transform STEM education in schools across Alabama.
The organization has revamped its STEM Ambassadors program, with an eye toward training a new crop of math and science teachers.
"Across the nation, there's a huge shortage of qualified math and science teachers, just as there's a shortage of STEM workers in general, so we are trying to help address that issue," said Kathryn Lanier, Ph.D., Southern Research's STEM Education Outreach director.
When it started several years ago, the STEM Ambassadors program was a summer program, in which University of Alabama at Birmingham students with an interest in STEM fields helped with summer camps for high school students at Southern Research's state-of-the-art STEM Lab in Birmingham.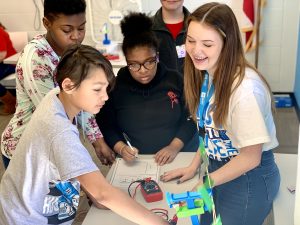 But now, STEM Ambassadors are working throughout the year, helping with field trips from high schools across Alabama.
Southern Research has partnered with UAB Teach, a program that allows UAB students majoring in STEM fields to take education courses as well. And when they graduate with a STEM degree, they will also be certified to teach in high school classrooms.
This semester, Southern Research has 10 STEM Ambassadors who are also a part of UAB Teach. They are paid by the hour, and they are gaining valuable training for their future careers.
"It's a win-win for us," Lanier said. "We need extra hands to help us facilitate our field trip experiences. It also provides these future educators with exposure to a very different learning environment – one that allows students to apply their content knowledge to tackle real-world problems."
"PERFECT EXPERIENCE"
One of the newest STEM Ambassadors is Amber Lakey, a UAB freshman who is majoring in mathematics.
"I knew that working with kids in such an intellectually stimulating environment, the STEM Lab, would be an incredible experience that would hopefully prepare me for my career as a teacher," she said.
After graduation, Lakey wants to teach high school math and later become involved in administration.
"The STEM Ambassador program is the perfect experience for me, since I want to teach," she said. "As I work through my education courses, I've already begun to notice how much easier it is for me to connect with the students; it's a skill that I take on with ease now. When I am a teacher, I will be able to apply these experiences to engage with students and encourage them to be passionate about STEM."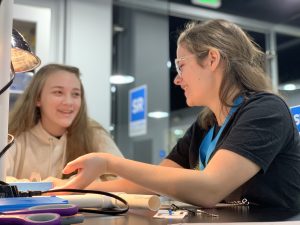 Lakey said she has loved her STEM Ambassador experience so far.
"When the students are there, I'm super busy running around to be involved with each group, ask questions and encourage them to keep trying new things during the experiments, and I enjoy every second of it. There are some jobs that are just that – a job. This honestly feels nothing like a job. I have so much fun with the students," she said.
MAKING CONNECTIONS
Southern Research is in the middle of a robust schedule of about 80 field trips for the 2019-2020 school year. Field trips include hands-on experiments in the STEM Lab and cover a variety of topics, such as tracking and diagnosing infectious diseases and transferring renewable resources into electricity.
Lanier said another benefit for the STEM Ambassadors is the connections they are making with educators and administrators who are accompanying their students on the field trips, which could help with future job placements.
Over time, she expects the STEM Ambassadors to become comfortable with leading students through the various steps of the field trips on their own.
"The hope is that by the end of the semester, or next year, they'll be confident enough to lead certain parts of the field trip, if they want to," Lanier said. "And hopefully they will become teachers themselves and bring their students back here for a field trip."