Founded in 1941 as a non-profit organization dedicated to improving lives throughout Alabama and beyond, Birmingham-based Southern Research and its scientists and engineers have made significant contributions to multiple fields in its history – including infectious disease, clean air, space exploration and national defense.
But in fall 2018, Southern Research elected to highlight its multi-faceted efforts in neuroscience, cancer research and "green" chemistry through the inaugural Change Campaign, a peer-to-peer fundraiser generating funds to support ongoing research efforts.
"Our passion at Southern Research is driven by hope: hope for a cure, for a cleaner, greener Earth and for lives to be changed – and ultimately saved," said Southern Research President and CEO Art Tipton, Ph.D. "Donations to the Change Campaign allow us to continue to explore important scientific breakthroughs within high-risk, high-reward endeavors that are many times difficult to fund through traditional government grants."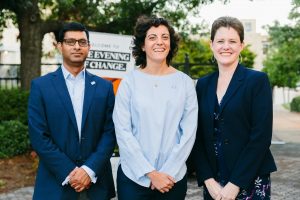 Fundraising under the Change Campaign, which relied on volunteer "Change Agents," began in September and lasted for 30 days. The campaign climaxed on Oct. 11 with a community event called the "Evening of Change" on the grounds of Southern Research's downtown Birmingham campus.
The one-month initiative ultimately raised more than $200,000 while simultaneously building awareness of the organization's groundbreaking work in select fields.
"Southern Research's mission is simple – make the world a better place. Our teams are passionately developing innovative technologies that positively impact real-world problems. We cannot progress our efforts – or be successful – without the support of our partners and the community," said Southern Research Development Officer Brynne MacCann.
The Change Campaign's showcase of the following three pillars of scientific inquiry under way at Southern Research included:
Neuroscience: This department is devoted to discovering effective central nervous system therapies to prevent, treat or cure neurological diseases and mental health disorders. Investigators are exploring the underlying mechanisms of neuronal cell death and dysfunction in Parkinson's, Alzheimer's, Huntington's, ALS and schizophrenia.
Cancer Research: Since Southern Research began its cancer research program in 1946, its scientists have saved countless lives through the development of effective chemotherapy techniques, the discovery of seven FDA-approved anticancer drugs and the testing of many medicines now on the market. Today, researchers are evaluating new treatment targets, investigating how to activate the immune system to kill tumor cells, and developing potential new anticancer drugs.
Green Chemistry: The goal of Southern Research's work in sustainable chemistry is to develop environmentally friendly and cost-efficient methods for making valuable chemicals or products from materials essentially considered to be waste. Researchers have devised ways to convert waste biomass sugars into the building block of carbon fiber, as well as to transform harmful carbon dioxide into chemicals needed to make everyday products.

Southern Research President and CEO Art Tipton speaks at the Change Campaign's 'Evening of Change' event. (Image: Mary Margaret Smith)
ATTACKING REAL-WORLD PROBLEMS
Southern Research's staff of nearly 400 workers is structured along four operating divisions: drug discovery, drug development, engineering and energy and environment. Besides the Birmingham research complex, it operates laboratories and offices in Maryland, Georgia and Texas.
The organization has and will continue to pursue entrepreneurial and collaborative initiatives to develop and maintain a pipeline of intellectual property and innovative technologies that positively impact real-world problems.
In keeping with this commitment, Southern Research has also worked closely with BioAlabama in 2018, helping the trade organization bring more visibility to Alabama's growing biotech ecosystem and the incredible work being done in the state. The industry's impact on the state has been calculated at more than $7 billion annually.