Southern Research will officially open a new STEM lab at the Southside campus this week, part of the nonprofit organization's increased efforts to attract more students to careers in the field.
The innovative space is a hybrid lab that will support an interdisciplinary approach, said Kathryn Lanier, Ph.D., Southern Research's first STEM Education Outreach Director.
It is currently outfitted with equipment and supplies to conduct both physical and life science experiments in a fully-functioning lab setting. Eventually, it will feature 3D printers, robotics equipment, coding software and more to form a true maker space as well.
A ribbon-cutting ceremony will be held on Wednesday for the lab, which occupies nearly the entire second floor of the library and can accommodate about 50 students.
"It looks amazing," Lanier said. "It's an inspirational place to be, a fun place that inspires creativity and innovation."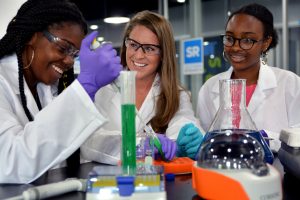 Lanier, who joined Southern Research last year, has been busy ramping up STEM education efforts, hosting numerous events for students and teachers.
"Our scientists love having students in the lab, but at the same time, they have important day jobs solving the world's hardest problems," she said. "This space allows us to bring students here on a regular basis. My goal is to have students here every day."
The lab already has been used by teachers who are participating in Southern Research's Summer Internship for STEM Educators (SIPSE) program and students who are part of the Alabama Governor's School honors program.
INSPIRING YOUNG PEOPLE
Southern Research's investment in the lab is an important milestone in its efforts to shape the next generation of STEM professionals in Alabama, said Art Tipton, Ph.D., CEO and president of the organization.
"It's an exciting tool in our mission to introduce young people across the state to the fields of science, technology, engineering and math," he said. "This is where students will learn new lessons, make interesting discoveries and perhaps start dreaming of careers they never considered before."
Southern Research continues to roll out a robust lineup of STEM education initiatives.
SIPSE is a professional development program for Alabama high school teachers and provides paid summer internships for 9th– through 12th-grade educators. Teachers from schools in the Jefferson County, Chilton County, Russell County, Tarrant City and Hoover City school systems are already participating.
They are working with Southern Research professionals in several areas, including Cancer Therapeutics, Parkinson's Disease, Schizophrenia, Environmental Science/Engineering/Internet of Things and Vaccine Development.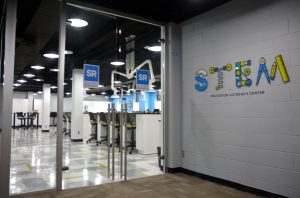 Southern Research will give each teacher $1,000 to buy supplies for their classrooms so they can implement a new lab or activity based on what they learned through SIPSE.
One participant, Janet Ort of Hoover High School, developed an environmental sensor as part of her SIPSE project and is currently in the Amazon collecting real environmental data using this sensor. She will leave the sensor in the Amazon and will continue to collect data from it upon her return to the U.S.
There's also the STEM Excellence Program (STEP), in which students representing nearly 30 high schools and eight counties across Alabama will gather at Southern Research for a week of discovery and innovation. STEP sessions are planned for July 16-20 and July 23-27.
The week will feature hands-on experiments in the new STEM lab, and UAB undergraduates serving as mentors for the students. Guest speakers will include Southern Research scientists and engineers, scientists from the Alabama Department of Forensic Sciences, marine biologists conducting research in Antarctica and an astrobiologist working with NASA to explore other planets.
STEP will promote discovery and teach problem solving skills and teamwork, while enhancing student understanding of the technology skills necessary to be successful in STEM careers. Lab investigation topics will include environmental engineering, molecular biology, computer science and robotics.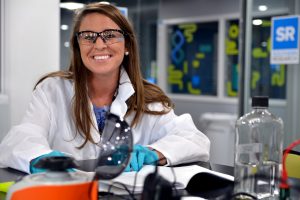 DEVELOPING PROBLEM SOLVERS
Last month, Southern Research participated in the annual National Organization of Black Elected Legislative (N.O.B.E.L.) Women Conference, which was held at The Westin Birmingham.
The conference featured the group's STEM education program, Girls, Gigabytes and Gadgets, and Southern Research helped provide instruction for about 60 local girls who participated.
"It was such a good experience for these girls, who were able to interact with Southern Research scientists and engineers, as well as strong African-American women who are elected leaders," Lanier said.
Other recent STEM education efforts included a Spring Break Camp, which gave about 80 Central Alabama students hands-on experience conducting lab experiments, and a Black History Month Science Fair, which called for students to create projects that complemented the research of an African-American scientist or engineer.
Expanded STEM education not only benefits schools and students across Alabama, it also enhances the potential of Southern Research's future workforce, Lanier said.
"It's the right thing to do, to give back to the community we live in, and it's also a pipeline of new talent for us, by exposing students to this field and developing them into critical thinkers and problem solvers."
---
Stay up-to-date with SR's research, discoveries, upcoming events and more: sign up for our monthly newsletter.